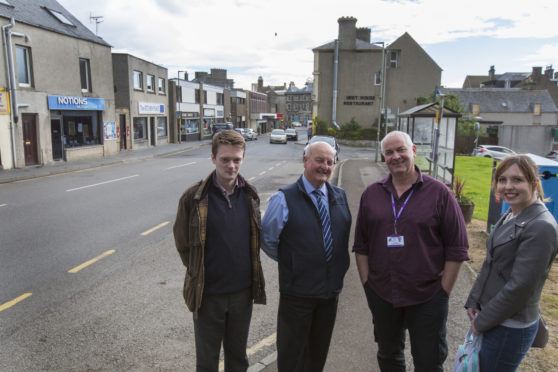 One of Highland's hardest-hit towns is in line for a massive funding boost to help get it back on its feet.
Wick has secured around £500,000 towards a root and branch rethink of the town centre and development of other initiatives.
Local politicians say the town has been "dying" and the cash boost will help make the centre vibrant again.
A package worth around £200,000 from Sustrans Scotland Street Design Programme has just been announced, following news of an award of around £18,000 from the Beatrice Offshore Windfarm Ltd (Bowl) to look at the feasibility of a flagship indoor market development.
Wick is also bidding for a share of the Scottish Government's Town Centre Fund for Caithness of £265,000 to revitalise its shop fronts and upgrade its riverside car park.
Sustrans will now work closely with the community to monitor and evaluate activity in the town centre and its suitability for all users.
They will produce designs and plans to take forward with Highland Council, attracting up to 100% funding to come to fruition.
All four local councillors formed a team to submit the Sustrans bid, which involved a site visit, panel interview and gruelling shortlisting stage.
Councillor Nicola Sinclair said: "Wick town centre hasn't had any investment in the past three decades.
"Any new design will aim to improve the accessibility and enjoyment of the town centre for locals and tourists, with traffic calming, lighting, seating and planting designed to create a more attractive and welcoming civic space."
The indoor market proposal came from the Royal Burgh of Wick community council, with the idea of using the former Original Factory shop in Market Square.
John Bogle, secretary of the community council said:  "We have been pushing for regeneration for some time as the town centre is dying on its feet.
"We want to see the town centre vibrant again as a colourful place that locals and visitors will want to spend time in.
"We must use the money wisely to ensure a long lasting benefit to the town centre."
Ms Sinclair said: 'For the first time in decades, we have a detailed and now fully funded plan to tackle derelict buildings, improve footfall and create a more vibrant and attractive town centre we can all be proud of.
"The community has been incredibly receptive and since the very first meeting we've had people coming forward with ideas and offers of help.
"The momentum is behind us now."
The town was hit by bad news recently with some shop and business closures – although there was good news when pub chain Wetherspoon announced they would stay after a threat of closure.
A Highland Council spokeswoman said: "Both the Sustrans and Bowl funding will allow critically important foundations to be laid in developing long lasting improvements for the town.
"This preparatory work is necessary so that funding can be pursued in order to turn the ideas and aspirations of the community into reality."
A hard struggle
Highland economist Tony Mackay, who comes from Wick, cautioned that the task ahead would be a 'hard struggle.'
He said: "These are certainly very welcome developments, although I have some doubts  as to how successful they will be.
"The Wick economy has struggled in recent years.
"The local unemployment rate is currently about 8%, which is more than twice the national average; earnings are about 20% below the national average and the population has been declining, particularly with regards young people.
"The town centre has declined markedly, like in many other towns.  There has been the well-known shift to online shopping but the problems have been worse in Wick because of the high unemployment and low earnings.
"RBS, for example, recently closed their branch and there was also a threat to the future of the largest pub, although that has been lifted.
"Wick was, however, chosen as the main supply base for the Beatrice offshore wind farm in the Moray Firth and that will have a big positive impact, creating about 70 direct jobs."
Mr Mackay said there were also opportunities offered by tourism, though they have yet to be seized locally.
"Tourism is booming, mainly because of the success of the NC500 initiative, but Wick has not yet been able to capitalise on that," he said.
"These proposed improvements are therefore very welcome but it will be a hard struggle."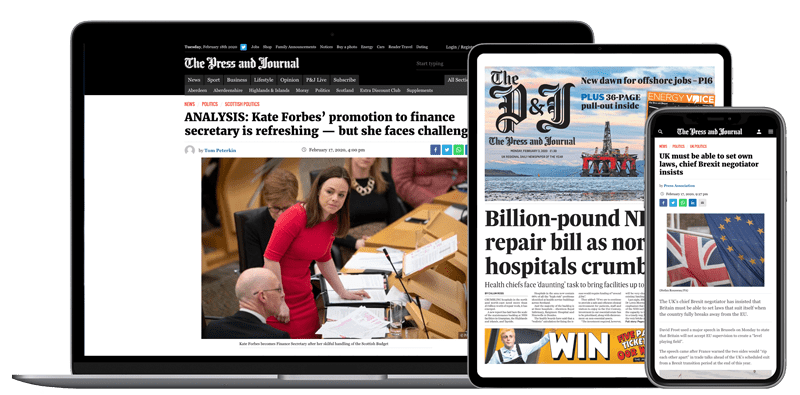 Help support quality local journalism … become a digital subscriber to The Press and Journal
For as little as £5.99 a month you can access all of our content, including Premium articles.
Subscribe