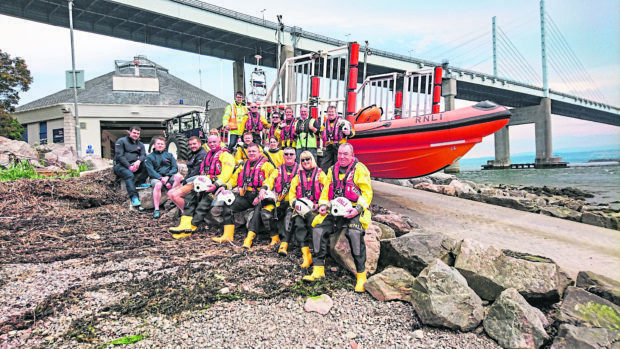 Two lifesaving volunteers from Inverness have returned from a vital training course in England which was geared towards helping them save the lives of people stranded at sea.
Dean Allan, 26, and James Lynch, 23, travelled to the RNLI College in Poole, Dorset last week to complete the charity's Crew Emergency Procedures course.
More than 3,000 RNL crew members have so far attended this course following a five-year funding boost by Lloyd's Register Foundation, which has donated nearly £2.5million to the cause.
Mr Allan, who volunteers with RNLI Kessock Lifeboat, was inspired to sign up as a volunteer after watching the crew train in his local area.
This whetted his appetite to give something back to the local community.
Speaking about the course, he said: "This has been an eye-opening course that has really instilled in me the importance of the training that we receive as RNLI volunteers.
"Some of it, I hope I never need to use, but the very nature of being an RNLI volunteer is you have to be fully prepared for every scenario at any time and this course is embedding those vital skills."
Mr Lynch, a structural engineer, has volunteered for the past five years at both Loch Ness and Kessock lifeboat stations.
The joint training took place in the Sea Survival Centre at the RNLI College, where they were joined by other RNLI volunteer crew members from around the UK and Ireland.
The crew were trained in a variety of crucial subjects during the course such as dealing with fires aboard the lifeboats, how to 'abandon ship' in the event of an emergency, team survival swimming, how to right a capsized inshore lifeboat and the importance of lifejackets.
James Kilburn, Lifesaving Delivery Training Manager at the RNLI said: "As only one in ten of our volunteer crew members comes from a professional maritime background, the Crew Emergency Procedures course is crucial in giving our volunteers the training they need and helping keep them as safe as possible while carrying out rescues.
"It gives volunteers the confidence to save lives in the most challenging conditions."