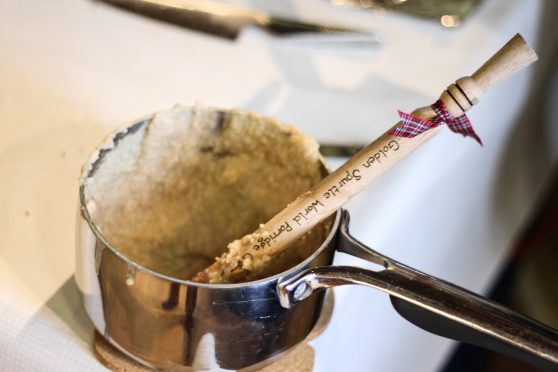 The line-up for the 2019 World Porridge Making Championships has been announced, with competitors from 12 different countries preparing to vie it out for the illustrious title of world champion and taking home the famed Golden Spurtle.
Each year, porridge fans descend on the Highland village of Carrbridge to compete in the championships, with the event in its 26th year this October.
The Golden Spurtle award will be awarded to the competitor who is determined to have the best recipe, with last year's title heading across the North Sea to Scandinavia, where joint winners Calle Myrsell and Per Carlsson of Sweden ensured the country tasted success for the second year in a row.
Making up the 30-strong line-up, competitors are flocking from countries across the globe including Sweden, Germany, Russia, Ireland, Norway, France, Poland, Wales, Scotland, England, Belgium and even Canada.
Organiser Charlie Miller said: "There is a bit of excitement, a lot of excitement in fact, but there is also a lot of concern. The concern is that everything could go wrong but we have got a great team that includes three past organisers so I am confident that won't happen.
"I am very much looking forward to it. Local businesses have rallied round and offered lots of support, as well as individuals, so it really has been magnificent."
Some competitors have already scooped crowns in their own countries, with 2019 Swedish porridge making champion Angelika Oberg trying her hand at the world championships after previously stating that during her pregnancy she survived almost entirely on porridge and apples, a combination that she attributes to her success at the Swedish championships for her 'unusual cooking method'.
Brother and sister duo Ewout and Anse Vanmassenhovw from Ghent in Belgium have also made the final cut after they combined last November to open the first porridge bar in the Benelux region, where the three countries of Belgium, the Netherlands and Luxembourg meet.
Competitors aiming to secure the illustrious Golden Spurtle award are allowed to only just three simple ingredients – oatmeal, water and salt, with entries judged for appearance, texture, colour and taste.
The option is allowed for competitors to soak their oatmeal in advance, however, strict rules prevent any prior cooking of any ingredients.
A separate Silver Spurtle will also be awarded at this year's event, for younger competitors aged between eight and 16 years old.
Each year Carrbridge Community Council organises the event, with this year's event sponsored by Hamlyns of Scotland, who produce both oatmeal and porridge oats.
An award will also again be awarded for the best speciality porridge, where oatmeal can be combined with any other ingredients. The title is currently held by Chris Young of Perthshire Oatcakes, who wowed judges last year with his Scottish tapas platter.
The World Porridge Making Championships takes place in Carrbridge Village Hall on Saturday October 12, from 10am to 4pm.