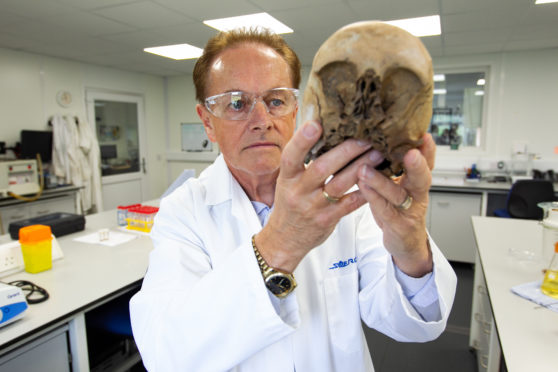 The grisly discovery of a human arm on an island off the north coast may sound like the start of another murder mystery novel, but scientists have discovered the real story is far more intriguing.
Concerns were recently raised in Orkney after a walker came across a skeletal arm on a beach in Burray.
Initially, police feared the remains could be that of a missing person or even a murder victim – but a leading forensic scientist has now determined that the limb belonged to an individual from the Iron Age.
Professor Gordon Cooke, from Glasgow University, conducted numerous tests on the bones to put the investigating officers' minds at ease.
Eventually, using radiocarbon dating, he concluded that the person the arm belonged to died almost 3,000 years ago.
He told the Sunday Post: "It was in remarkably good condition, considering its age.
"If a body is buried in dry conditions or other material that preserves bones and tissues well, it can be remarkably well-preserved.
"That makes it difficult for police to establish whether the victim is fairly recent or ancient.
"The bone found in Burray Sands had belonged to an Iron Age person."
Julie Gibson, from the University of the Highlands, is a regional archaeologist based on Orkney.
She said the unique conditions of the Scottish islands make them an ideal location for the preservation of human bones.
She added: "The environment is perfect for keeping very old skeletons.
"We have had a few Iron Age and older ones found on the shore.
"It is a much better environment than the acidic soil found on mainland Scotland.
"Coastal erosion causes the ancient graveyards to be uncovered."
She added that Iron Age people could expect to live to their 40s or 50s if they survived infancy and childbirth, but the age of the person the arm belonged to is not known.