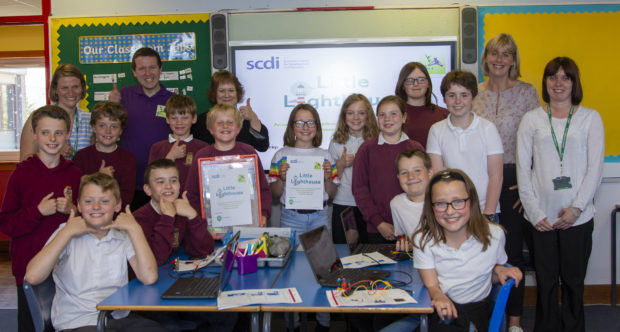 Budding engineers at Brora Primary School have kicked off a new project designed to enthuse young people about science and technology.
Brora's P6 helped launch the Scottish Council for Development and Industry's (SCDI) new Little Lighthouse programme which is being sponsored by Falck Renewables, owners of the Kilbraur Wind Farm.
Schools around Falck's ten Scottish wind farms will be taking part in the programme which involves carrying out scientific investigations, combatting engineering challenges and learning to programme a micro bit computer – all with the aim of constructing their own functioning model lighthouse.
Training sessions for teachers are also included in the project with each participating school receiving a resource kit with everything they need to develop their lighthouse.
Melanie Riddell, programme manager for the SCDI's Young Engineers and Science Clubs Scotland, said: "We are delighted to be launching our exciting new Little Lighthouse programme at Brora Primary School with the support of Falck Renewables.
"Over the course of the project our young engineers will cover a wide range of topics, from the history and locations of Scotland's lighthouses and the science and engineering behind them, to weather, renewable energy and computer programming."
Erin Hunter, community relations manager at Falck Renewables, said: "Our main aim in the communities where we have wind farms is to be good neighbours and to help support initiatives which benefit local people.
"We're very pleased to be supporting the Little Lighthouse project at schools around our windfarms which we're sure will prove an engaging way to encourage more young people to consider careers linked to science, technology and engineering."
The scheme will be rolled out to teachers around Scotland from August.
Schools taking part in the project will be invited to showcase their work at a series of Regional Celebrations of STEM held across the country during March 2020, culminating in a National Celebration taking place at Glasgow Science Centre in June 2020.