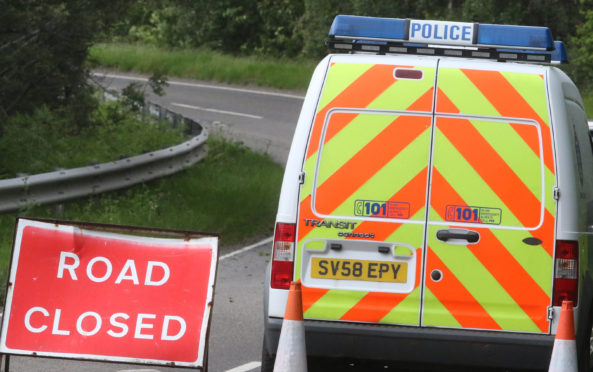 A biker is understood to have suffered life-threatening injuries in a horror crash on a scenic Highland road yesterday – less than a week after a young motorcyclist was killed in an accident in Inverness.
The crash involving the motorbike and a pick-up truck happened just about one mile north of Lairg, Sutherland, shortly after noon.
Emergency services rushed to the scene to provide assistance, with a road closure put in place throughout the afternoon – resulting in two hour diversions – as police crash investigators conducted a thorough examination of the scene.
UPDATE:
A police spokesman said: "We received a call to reports of a two-vehicle road traffic collision on the A836 approximately one mile north of the village of Lairg.
"A pick-up and a motorbike are the two vehicles involved.
Motorcyclist seriously injured after horror crash on scenic Highland road
"A road closure was put in place to allow officers to investigate, with relevant diversion routes put in place to allow motorists to continue their journeys."
Two ambulances raced to the scene, alongside two trained medical professionals to provide assistance to those injured.
Lengthy diversions added more than two hours onto the journey times of motorists travelling on the A836 route, by re-routing via Golspie, Helmsdale and Syre.
Those heading north west on the A838 from the Lairg area towards Laxford Bridge also faced lengthy delays, with the diversion by Ledmore and Unapool consisting of just over 58miles.
Local councillor Hugh Morrison said: "It is incredibly unfortunate that something has happened and my thoughts are with all of those involved.
"It is never a nice thing to come across or to be involved in, so really my main concern is the wellbeing of those involved.
"Generally the traffic movement in the area has not been too bad for this time of year but we did have an influx with bikers over the course of last weekend.
"We all have to be aware of what is going on around us in the summer months and take that little bit of extra care."
His sentiments were echoed by fellow councillor Linda Munro.
She said: "My thoughts absolutely go out to those involved and their families.
"It is always a concern, no matter of how great the road and how good the road conditions are, we have to take extreme care on the roads – and that goes for all of us, for each and every road user."
The incident is the second biking accident in the Highlands this week.
James Lynagh, 33, from Tain, died in a one vehicle crash in Inverness in the early hours of Saturday morning. The incident is being investigated by the Police Information and Review Commissioner (Pirc).