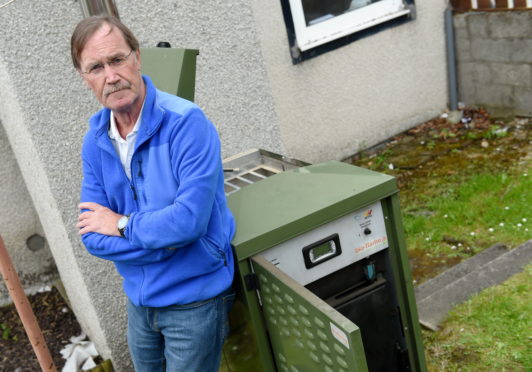 Pensioners across the Highlands have been left in "desperate straits" due to crippling bills from a "mis-sold" energy scheme.
One pensioner has been told to repay almost £18,000 in UK Government subsidies as his biomass boiler, installed in 2014 as part of the renewable heat incentive (RHI) scheme, was found not to be complying with required energy standards.
The RHI programme offers consumers subsidies to switch their heating system to one that uses cleaner energy in order to help the UK reduce its carbon emissions, and meet its renewable energy targets.
---
>> Keep up to date with the latest news with The P&J newsletter
---
However, after a recent audit by regulator Ofgem, many energy systems have been found to have fallen foul of the scheme's terms and conditions across the Highlands – and consumers have been asked to pay back vast sums.
John McMorran, 64, of Aviemore said that a bill landed on his mat for £17,717 in December as his boiler had been found not to be complying.
He said: "I had a cold call in 2014 from a company explaining the benefits of this scheme, it sounded a good deal to me and I agreed to have the biomass boiler installed.
"It was fine until this audit and I was told the boiler did not comply.
"When I saw what they were asking for, and the fact they wanted it paid in six months, I thought they had a sense of humour.
"I am semi-retired now and don't have that money, I would have to sell my home to pay it back. I'd be homeless."
The former health and safety worker added: "My neighbours had boilers installed too but they haven't been audited so they are still getting the subsidies. It's just a cloud hanging over everyone."
Statistics collated by the House of Commons library reveal that more than 5,400 energy systems across the UK had been "rejected, failed or cancelled" since the scheme began five years ago.
Inverness MP Drew Hendry, who has raised the issue privately with energy ministers, said the UK Government must halt these repayment orders as a matter of urgency.
He said: "Several of my constituents have received eye-watering bills following desk audits of the their RHI payments. Understandably, they are shocked to find out that the UK Government scheme they entered into in good faith has left them in this situation.
"It is simply unacceptable. They were mis-sold schemes, effectively duped by private companies who gave assurances about the scheme and it's benefits.
"Worse than that though, many of them were previously audited by Ofgem and given a clean bill of health."
He added: "The UK government must halt these repayment orders and take responsibility for the maladministration that has left householders in desperate straits.
"They need to find a fairer way to sort out their own mess."
Ofgem, in guidance on audit checks, said: "We pay out public money so we need to make sure it's being spent properly and people are following the rules.
"Anyone can be selected for an audit check at any time. We select heating systems based on a number of reasons including random sampling."
In Mr McMorran's case, Ofgem initially advised him to contact Citizens Advice, but after pressure from Mr Hendry and the P&J the regulator is now working with Trading Standards to reexamine the case.
Energy minister Chris Skidmore, in a letter sent to Mr Hendry yesterday, said: "My officials have made some enquiries with Ofgem regarding this matter.
"Ofgem have advised that they are investigating Mr McMorran's case and are liaising with Trading Standards as part of a wider enquiry.
A UK Government spokesman said: "We take consumer protection very seriously.
"While we don't comment on individual cases, we are in contact with Ofgem and are working hard with all organisations involved to ensure consumers across the country are aware of the protections available to them in circumstances like these."