They are the chicks who foughts against the odds to be here.
And now, conservationists are looking for inspiration from the public to help them name two female osprey chicks in Lochaber.
The chicks, located at Loch Arkaig Pine Forest, were born last month just days apart becoming the third brood to parent raptors Louis and Aila.
The parent ospreys, now in their third nesting season, raised their first chick Lachlan in the 2,538-acre forest two years ago before losing their clutch of three eggs to a pine marten last year.
Over the past month, the new additions have braved almost nightly attacks on their nest as part of an ongoing turf-war with tawny owls nesting nearby.
Both chicks have now been tagged by members of the Highland Raptor Study Group to help keep tabs on their progress.
George Anderson of Woodland Trust Scotland said: "There was a size disparity right away and the second chick took quite a battering in its early days, while the older one hogged most of the fish. The wee one learned to give as good as she got though, and their sizes have gradually equalised. The ringer weighed them each as 1.49kg."
In order to find an appropriate name for the new additions, the charity has now launched an online competition; urging entrants to draw on the area's rich historic origins.
Entries will be accepted via their online website in the coming days before the best suggestions are shortlisted and put to a public vote. The charity is hoping to have both chicks named by close of play next week.
He added: "We are asking the public to suggest names on our osprey page. Later next week we will pick a few of the best suggestions and put them to a public vote. It would be great to hear names that reflect the area or the bird's particular character.
"The forest has lots of history to draw on with stories of buried Jacobite treasure through to Commando training during World War II. The sibling rivalry might throw up a few ideas and it would be great to see Gaelic language and culture in the mix too."
The winner will be offered an exclusive wildlife tour of Loch Arkaig by Wildlife expert Lewis Pate – who ringed the ospreys – followed by a two night stay at the Moorings Hotel in Fort William.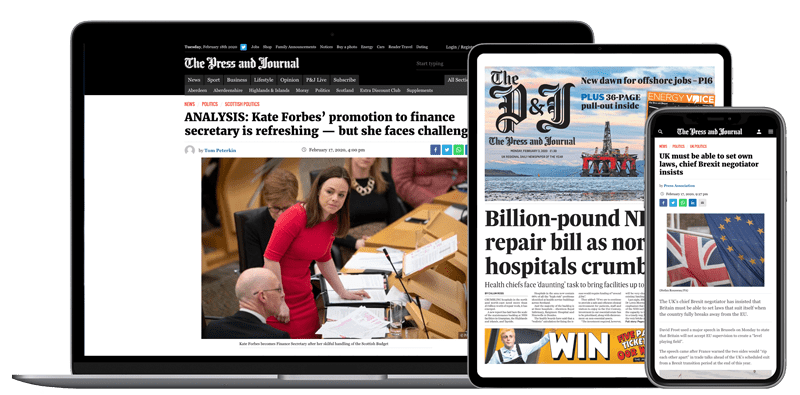 Help support quality local journalism … become a digital subscriber to The Press and Journal
For as little as £5.99 a month you can access all of our content, including Premium articles.
Subscribe