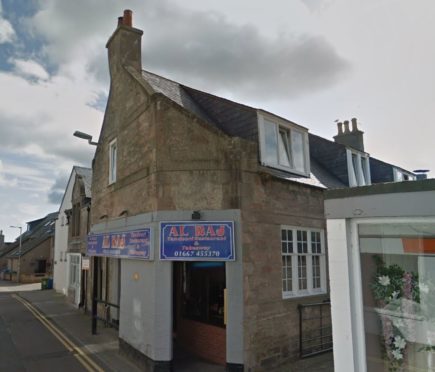 An Indian restaurant has been fined £4,800 after inspectors found its "significant unsafe hygiene practices" put customers at risk of food poisoning.
The Al-Raj restaurant in Nairn was shut for four weeks after environmental health officers carried out a visit.
The inspection of the Harbour Street eatery was carried out on September 21, 2017.
Inside the kitchen, officers identified a significant number of food safety contraventions including dirty equipment, inadequate cleaning and disinfection of work surfaces, and unsafe food storage and handling practices.
As a result, the officers served an enforcement notice to stop the food operation.
Owner, Mobarok Ali, has now appeared at Inverness Sheriff Court and pleaded guilty to three food safety offences.
Highland Council yesterday welcomed the fine and hailed it as a reminder of why "basic principles" of hygiene should be adhered to.
Andy Summers, head of environmental and amenity services, said: "The basic principles of food hygiene were clearly being ignored, and unsafe practices placed the consumer at risk of food poisoning.
"Food business operators have a clear and absolute legal duty to ensure that they handle, prepare and serve food safely and Highland Council is committed to ensuring that food hygiene standards are met by all food businesses.
"The council takes protection of the public and food hygiene matters extremely seriously.
"Our officers are happy to work with and advise businesses on these issues, however, where standards have slipped to unacceptable levels, we will not hesitate to use formal action to secure compliance with legislation."
Mr Ali yesterday claimed the restaurant was now "up to health standards".
He said the inspection was carried out when he was away and there were various staff changes taking place at the premises.
Since then, he insists the "short-term lack of standards" had been corrected and the business was now buoyant – and enjoying loyal trade from locals after 36 years of operating.
Mr Ali said: "This happened at a time I was away, my father-in-law was unwell in Bangladesh, and there were significant staff changes taking place at the same time.
"We were closed for four weeks and made sure changes were put in place, organised by the inspectors, and can ensure customers everything is OK. I have been here for 36 years and loyal customers know we are good."