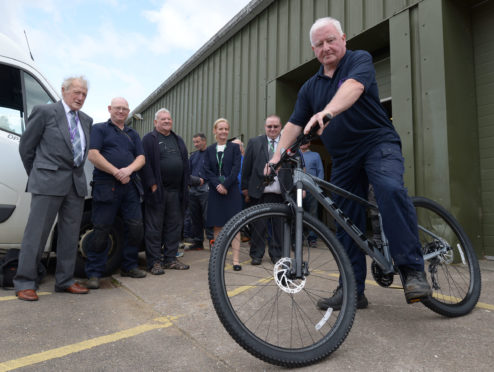 A builder and slater who has worked for more than 50 years with Highland Council hung up his hammer for the last time yesterday.
Duncan MacLachlan, who is based at the council's Carr's Corner Depot in Lochybridge, Fort William is the longest serving employee with the council.
He started his employment with Argyll County Council on September 2 1968, serving with Lochaber District Council and latterly with The Highland Council, and retires after almost 51 years of service.
Mr MacLachlan said: "I started working for Argyll District Council in 1968 down in Ballachulish as part of a small squad going as far as Connel and Ardnamurchan.
"I've seen so many people come and go and one thing I will miss is the camaraderie and a the bit of banter with the boys, although I will still see most of them.
"I have been working a three day week for a while now so I'm sort of used to it and like gardening, cycling, playing a bit of bowls so time will soon pass.
"Thanks to everyone who came today including a lot of old faces who made an effort to be here today to wish me luck.
"They know that I hate to be the centre of attention, but it was good to see them again".
Highland Council Chief Executive, Donna Manson who attended Duncan's retirement presentation at Carr's Corner Depot said:
"Duncan is an excellent example of how we want people to be ambitious and to work for the council.
"Over the years he has passed on his skills and training to others helping the council to be sustainable and he is clearly well connected with the local community.
"I would like to thank Duncan for his long service to the local communities within which he has worked and wish him a long and happy retirement."
Repairs manager Lachie Macdonald said: "Duncan is a Ballachulish man through and through, having left Kinlochleven school at the age of 15, he started work with Argyll County Council when he was 16 and learned his craft as a builder and slater as part of a small squad before being transferred to Lochaber District Council when the boundaries were redrawn and finally to Highland Council when the district councils transitioned to Highland Regional Council.
"Duncan is a well-respected and popular member of the team and out in the communities where he works.
"Duncan's hard work is evident throughout Lochaber from the fences that he has erected, roofs that he has repaired, fire places installed and miles of footpaths that he has laid in almost 51 years of service.
"I have enjoyed working with Duncan for a good number of those years and on behalf of his colleagues at Highland Council and the residents of Lochaber I would like to wish Duncan all the very best for his retirement."