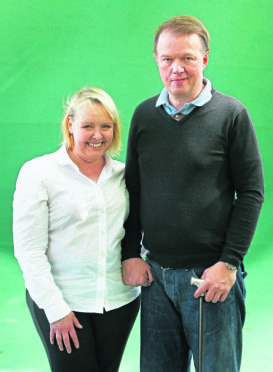 Edwyn Collins's wife – who is also his manager – has told how she ignored official advice as she bombarded him with old stories to "fire his synapses" and steer the stricken Scottish singing star back to speaking after two strokes.
The "A Girl Like You" singer suffered two catastrophic cerebral haemorrhages in 2005, which left him with aphasia, a medical inability to use or understand language, and unable to walk, talk, or write.
They also wiped the former Orange Juice frontman's memory, including all his time with the iconic band, of co-founding indie label Postcard Records, and even of the childhood holidays he spent with his grandfather and sister in the family's crofthouse home for generations in Helmsdale, Sutherland.
When he initially recovered from life-saving brain surgery he was able to say only "yes" and "no" and his wife's name – Grace Maxwell.
Collins, now 59, returned to live performing only two years later and is now about to tour his latest album, named after and inspired by the dramatically located abandoned village of Badbea, perched on a cliff top five miles north of Helmsdale, with a history defined by the Highland Clearances of the 18th and 19th centuries.
In BBC Radio Scotland's Somewhere Only We Know next week, Collins and Grace show presenter Nicola Meighan the star's studio in the Helmsdale croft, where the new album was recorded, and around the area.
They spoke of their struggle after the strokes.
Grace said: "When Edwyn was in hospital his speech therapist said 'what will really help him are memory books', and lots of people put together memory books.
"But his mum and sister [Scottish sheriff Petra Collins] used his grandfather's letters."
Edwyn recalls: "Six months in hospital – I was away with it."
During his rehabilitation, Lanarkshire-born Grace encouraged Edwyn to finish her sentences as a way of easing his stroke-related wrestle with language.
She said: "There's lots of advice you get to help people with aphasia, and most of it revolves around the idea of giving them lots of space, not talking over the top of them, being very patient, don't finish their sentences for them – and what did I do? Completely ignored all of that.
"It did work in terms of terms of firing the synapses of Edwyn's memory bank again."
The programme also traces the story of the couple's renovation of and return to the old family croft, and the creation of the studio, and sees Edwyn and Grace take programme host Meighan to their favourite beach and the spot where they both learned to fish.
*Somewhere Only We Know airs on BBC Radio Scotland next Wednesday July 17th at 1.30pm.