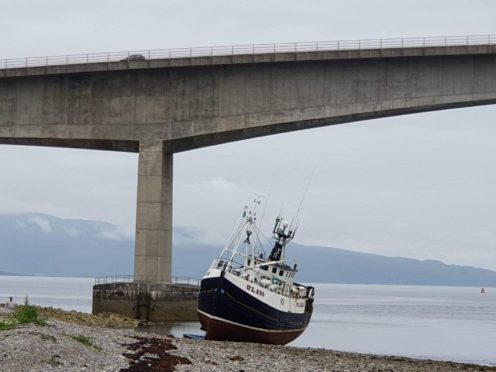 A Scottish fishing boat spent hours aground on the sandy shores of Skye – sitting virtually underneath the famous bridge yesterday.
The Ullapool-registered vessel Prosperity went aground near Kyleakin at 5.30am.
A Stornoway Coastguard spokesman said there had been no injuries to the crew and no damage to the 52-foot vessel, which had to sit until high tide before refloating.
The Prosperity had been in Gairloch prior to the incident and was en route to Tiree when she grounded.
The waters around Skye Bridge are no stranger to vessels running aground.
Back in 2010, the Royal Navy's newest and largest nuclear submarine at the time, the HMS Astute, grounded – much to the embarrassment of the UK Government and defence chiefs.
The commanding officer, Commander Andy Coles, was stripped of his post within weeks of the incident.
Two further officers were disciplined.
After being refloated the multi-million pound submarine was towed back to its base at Faslane on the Clyde for repairs.
The submarine had run aground outwith the safe sea lane marked on Admiralty charts.
The channel that runs underneath the Skye Bridge has red and green buoys known as lateral markers to ensure vessels do not run aground.
The bridge construction started in 1992 by the Scottish company Miller, but designed by a German engineering company DYWIDAG Systems International in collaboration with civil engineering firm Arup.
The main bridge is a concrete arch. The total distance across is 1.5 miles . The main arch is about 35m high (30m clearance for boats on high tide).
Meanwhile, the Northern Lighthouse Board's buoy-laying ship, the Pole Star, had to be refloated earlier this week after grounding at the entrance of Inverness Harbour.
Again, no one was injured.