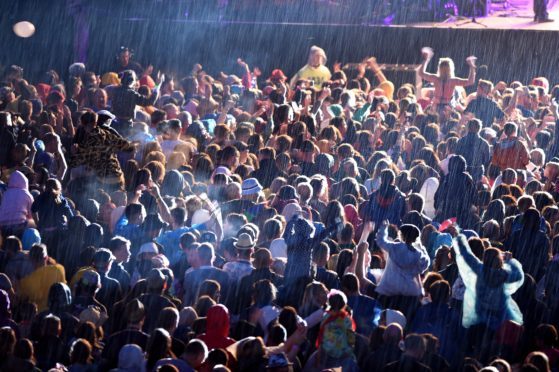 Discarded tents from one of the north's most popular music festivals are to be sent to refugee camps across the world.
The Belladrum festival celebrates its 15th year this summer, with acts such as Elbow, Chvrches and Lewis Capaldi among those taking to the stage at the start of August.
After the music dies down on August 4, volunteers from across the Highlands and Moray will flock to the Belladrum Estate to sort thorough abandoned tents and camping equipment that would otherwise be sent to landfill.
Last year refugee charities only managed to pick up "a fraction of what was left" due to low volunteer numbers, and are hoping to bolster their support for 2019.
Chris Peece, volunteer at Moray Supports Refugees, said: "The cleanup is organised by Highland Supports Refugees, who we work in close tandem with.
"Matt Matheson, from Forres, is coordinating the efforts for the Belldrum collection and has a group of students from Moray College have already agreed to pitch in and help.
"Once there, volunteers collect and check over the equipment before it's sent to refugee camps in places like Calais and Lebanon, where the situation is still really bad."
Moray Supports Refugees was originally established to support of Forres's first refugee families, who moved to the area from refugee camps in Turkey, Lebanaon and Jordan back in 2016.
Ms  Peece added: "I went to Elgin for a one-off volunteer shift but ended up loving it.
"After you sort out clothing or donations, they are sent directly to someone who really needs those items, whether it be a warm jacket, a wheelchair or a pair of shoes.
"It's immediate action."
And leftover tents at Belladrum that aren't of high quality to be sent to refugee camps are still not going to go to waste.
The Naked Highlander 'Good InTentions' range plans to use every piece of the discarded shelters, from zips to toggles to guy ropes to create versatile ponchos, capes, cagoules and even high-fashion dresses.
The range, co-owned by Susan Stewart, festival owner Joe Gibb and his daughter Jeanie, will be officially launched at the festival this August.
Creator Susan Stewart said:"After Belladrum a team from Highland Supports Refugees comes in and takes as many tents as they can to send to the rest of the world, to France, to Greece.
"But there are still a lot of tents that would be gathered up and sent to landfill so these we are going to take and develop."
Made mostly from plastic, the average tent can use the same amount of the material as 8750 straws or 250 pint glasses.
To volunteer with Highland Supports Refugees or Moray Supports Refugees, search for both groups on Facebook.