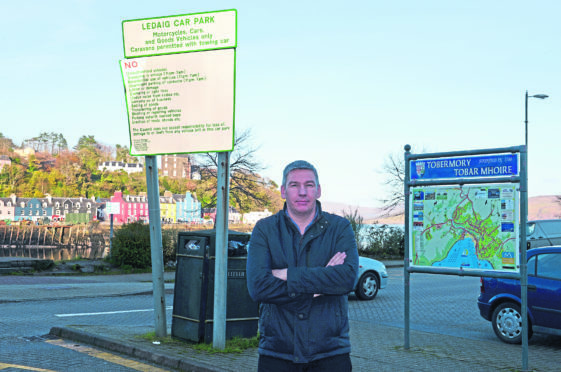 A community group has vowed to challenge a council decision to introduce a £9-per-day parking charge.
Community councils from Mull and Iona have set up a crowdfunding page to help meet the £6,000 legal fees to test the charges imposed by Argyll and Bute Council under the Islands Act legislation that came into force in 2018.
The legal challenge will be against Argyll and Bute Council who passed a Traffic Regulation Order (TRO) for Mull on June 12, despite vocal opposition from the island communities affected.
Three car parks will have charges imposed – at Craignure, Fionnphort and in Tobermory.
In a statement the group said: "The scheme is completely ill-conceived.
"The charges amount to an unavoidable tax on island residents, who have no option but to use the long-term car parks at Craignure and Fionnphort in order to access their lifeline ferry services.
"It effectively adds a tax onto the cost of travelling to the mainland for anything from a hospital appointment, to visiting children at school or accessing any mainland service.
"The exorbitant charges seek to impose London Congestion Charge rates to some of our most remote, hard to reach places.
"Local representatives have offered alternative solutions that address traffic management much more coherently, but all have been ignored.
"The process of imposing the charges runs completely contrary to the letter and spirit of the 2018 Islands Act, which imposes an obligation on the council to undertake an Island Communities Impact Assessment (ICIA), so that the particular needs of island communities are accounted for.
"The council have refused the offers of assistance from Scottish Government to undertake an ICIA.
"Given the complete failure of democracy and process that has led to the imposition of these parking charges, we now have no option but to challenge them in the courts."
A spokeswoman for Argyll and Bute Council declined to comment on the legal challenge, but said: "We are in the process of finalising procurement for parking ticket machines. Once these are in place, we will advertise the implementation date of the order."
Islands Minister, Paul Wheelhouse, said: "We want our island communities to flourish and thrive. That is why we introduced historic legislation to ensure the unique needs of people and communities on islands like Iona and Mull are properly addressed and provided for.
"We would hope that local authorities are giving active consideration to start implementing measures in the Act designed to help make better decisions for island communities.
"We are currently carrying out a wide consultation process to help us develop the National Islands Plan as well as guidelines for Island Communities Impact Assessments which will allow the Scottish Government, its agencies and local authorities to 'island proof our collective work.
"The plan will be presented to parliament by October 4 and the regulations for Island Communities Impact Assessments are expected to be laid before the end of this year."
The group's fundraising page can be found at www.crowdfunder.co.uk/island-parking-tax-fighting-fund