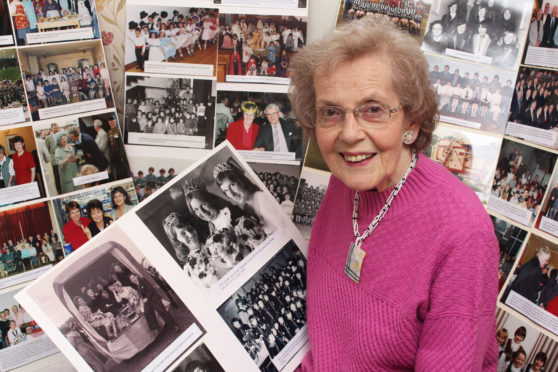 Hundreds of photographs capturing "all aspects of life" in Wick over the past five decades are to go on show.
They will form an exhibition called The McDonald Collection being held at the St Fergus Church Hall for one day only on Wednesday, July 31, during the town's gala week.
On display will be more than 450 prints from the archives of McDonald Photographers, the family business run for many years by Janet McDonald and her late husband Ian.
There will be a mix of black-and-white and colour photos taken at community events, special occasions and other assignments covered by the McDonalds from the 1950s until the early 2000s.
Mrs McDonald, 80, said: "I was up at the top of the house over the New Year holidays, thinking that I must get rid of some of this stuff – all these photographs up there.
"I started going through them and I realised, 'Oh my, I've got enough here to put on an exhibition'."
Since then, she has been selecting and captioning prints and arranging them on display boards.
She added: "I didn't realise it would be such hard work.
"It was decided we would have it in gala week so that it might give visitors or exiles home on holiday something to come in and see, which I hope they will.
"It's general, it's life in Wick and district – annual events, press events that we covered, all aspects of life as caught on our cameras over the years. A photograph is a moment in time for eternity.
"I didn't go out to look for anything specific. There are babes in arms right through to the old folk's treat, the whole spectrum of life in this town over 50 years plus."
Visits to the county by the Queen, the Queen Mother and other royals feature among the collection.
The community stalwart came up with the idea of an exhibition as a way of raising money for Church of Scotland Guild funds. She is on the leadership team of Wick St Fergus Church Guild, as well as being project co-ordinator for Caithness.
McDonald Photographers began life in Wick's Harbour Terrace and moved to Shore Lane in 1968.
The timing of the exhibition is appropriate, as for generations of Wickers the McDonalds played a special part in gala week.
After the traditional opening night, featuring the crowning of the gala queen and the procession of decorated floats, the McDonalds would stay up as late as 5am processing, printing and numbering photos and putting them on display in the shop window, filling the entire space from top to bottom.
In that pre-digital age, townsfolk would turn out in great numbers on the Sunday and over the following days to see the full set of gala procession photos and relive the fun of the occasion.
Mrs McDonald said: "It was part of the gala weekend to come round here and look at the photographs.
"I still get people coming in and asking if there are any gala photos to put in the window, or people will say they loved coming round looking because they were on floats and they didn't see anything else."
Mr McDonald died in 2004 and Mrs McDonald retired from photography around five years ago. The business is now run by their son Ian jnr and focuses mainly on framing.
She said: "I don't go out with a camera now and I miss it terribly – meeting people and knowing what's going on in the town, which the camera allowed me to."
The McDonald Collection, under the auspices of Wick St Fergus Church Guild, runs from 11am to 7pm on July 31 in the St Fergus Church Hall. Admission is £3 which includes tea or coffee and biscuits.
The likelihood is that many of those popping in to the exhibition will notice themselves in at least one of the photos, such is the multitude of faces on show.
"If they're not in it themselves, they're bound to see somebody they know," Mrs McDonald added.
"It's worth coming along just to see – maybe bring a friend and then have a cup of tea and a biscuit. They are more than welcome.
"I'll be delighted to see as many people as possible. Hopefully they will enjoy having a wee trip down memory lane and go out with a smile on their faces."