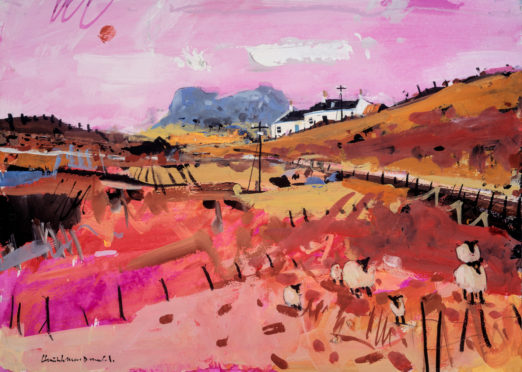 An exhibition of vibrant Highland landscapes by one of Scotland's finest contemporary artists is to go on display in Glencoe next month at the newly revamped visitor centre.
Over 50 items of Hamish MacDonald's work depicting the landscapes and seascapes of the west of Scotland will take up residency at the National Trust for Scotland (NTS) facility from Saturday August 3 to Saturday September 28.
The exhibition, incorporating print, silk art and cards, will be available daily from 10am to 5pm with Mr MacDonald's youngest daughter Nicola on hand to curate the exhibition and share the inspiration behind her father's works.
Emily Bryce, operations manager for Glencoe said: "Quirky design and sculpture inspired by the glen can be found throughout our new-look visitor centre, so we are delighted to provide a space for showcasing art inspired by the Highland landscape too.
"Hamish's work reflects the ever-changing vitality of the scenery, the weather and the wildlife here so well, and, brightens up even the most dreich of summer days."
Mr MacDonald, who died in 2008 aged 73, studied at the Glasgow School of Art and is the first artist to have their works put on display in the recently refurbished centre, which opened its doors in spring.
The conservation charity has invested over £1 million into the refurbishment of the Glencoe Visitor Centre over the past 12 months, creating a more modern, immersive and welcoming gateway to Scotland's most famous glen.
Last year more than 210,000 people visited the visitor centre with the improvements expected to see a rise in those numbers for 2019.