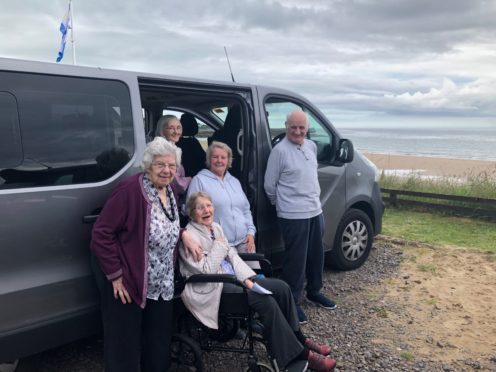 Residents of an Invergordon care home have taken to the high road after Kintyre House was delivered with a brand new minibus to enable residents to get out and about.
The keys for the brand-new transporter have been handed over to care home staff with residents now able to get out on trips to their favourite destinations in comfort, and in some style.
The minibus has even been specially adapted to take a wheelchair, ensuring nobody is left out.
On the first venture, residents visited the popular Shandwick Beach, enjoying a walk along the shore and capturing glimpses of some of the raw and spectacular wildlife on show.
Kate Whitehead, home manager at Kintyre House, said: "We have taken delivery of our new minibus just in time to enjoy some terrific warm weather.
"We are committed to a full and active programme to ensure everyone at our residential care home can get involved in the great range of activities we offer in the home and get out and about to enjoy the beautiful and breath-taking countryside and coastline on our doorstep."
Residents who have already sampled a journey aboard the minibus said: "It's a lovely big van and easy to get in and out.
"It is great to be able to get out on trips."
Another resident joked about how new the vehicle is, stating: "It is so shiny you can see your face in it."
The world really is the care home resident's oyster now, with plans in place for day trips to Inverness, Dingwall, Elgin and Findhorn to see dolphins, visit tea shops, and to grab some fish and chips, ice cream and shopping.