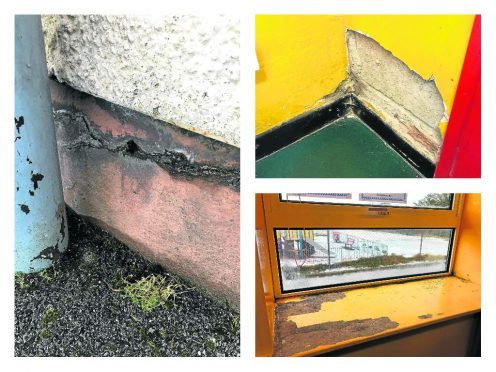 The parent council of a "dilapidated" Skye primary – where a third of pupils claim to have been stricken by respiratory illnesses – has issued a desperate plea for their "sick school" to finally be replaced.
They have spoken out ahead of crunch talks next week with Highland Council.
Parents of pupils at Broadford Primary School in the south of the island will meet with council bosses on Monday to discuss the state of the current 1970s school building.
They claim its condition is "negatively impacting on the health and educational attainment" of children and staff, adding it is "a breeding ground for infections and respiratory illnesses".
Results of a recent survey conducted by the parent group found that a staggering 32% of current pupils have been diagnosed with a respiratory illness.
Parents 'very worried' as asbestos found at Highland primary amid calls to replace the school
Parents have also reported that conditions of children had increasingly improved during school holidays, and around 77% of former pupils reported their condition had improved significantly after leaving the stricken school.
The revelation, coupled with a visit by officials in June, has forced Highland Council to conduct its own health survey into pupils' health.
Rosie Woodhouse, of Broadford Primary's Parent Council, said: "The school is unfit for the delivery of modern primary education. Parents constantly raise concerns about their children's health whilst they are attending Broadford Primary School.
"During the holiday period, fellow parents report that their children do not need to use inhalers and that their asthma has shown a noticeable improvement."
Harmful asbestos has also been found in the school building with a previous incident closing the school's canteen back in September 2018 – where pupils were only served cold meals during the week-long closure period.
Hamish Fraser, chairman of the Broadford Community School and Hub Working Group formed last year, added: "This community is fully behind the urgent and pressing need for a new, safe and healthy school for the children and indeed also for the staff, who are being asked to work under the present dangerous and unsafe conditions.
"Broadford Primary pupils urgently need the Scottish Government, Highland Council and Broadford Primary to work together if we are to prioritise the health and safety of our children and staff."
Parent council members also claim adverse medical effects also forced one former teacher into early retirement after developing health issues whilst working at Broadford, but they were able to resume work at a different school following the improvement of their illness and change of workplace.
A Highland Council spokeswoman said the local authority is committed to improving the school within budget constraints, and that asbestos management plans are in place.
A Scottish Government spokeswoman said they "recognise the understandable concern" of parents, adding that responsibility for the building lies with the Highland Council after being awarded £63million – the second-largest sum – of the £1.8billion Schools for the Future programme.
She added: "The council are also required to strictly follow Health and Safety Executive recommendations and we would expect them to do so in relation to Broadford Primary."
Priority
Local elected members yesterday threw their support behind the parents' drive for a new school.
Councillor John Finlayson said: "The parents and community of Broadford are rightly concerned about the very poor state of the school building and the impact this has had for a number of years on children's learning and also the health of both staff and pupils.
"A new school and community hub for Broadford has to be a priority for both Highland Council and the Scottish Government and the children, parents and wider community deserve to feel that the health and wellbeing of young people and staff working in Broadford Primary School is everyone's priority."
Kate Forbes MSP echoed Mr Finlayson's comments, adding that she, alongside other campaigners, would not be content until a new school is in place.
She said: "We've been campaigning for a new school for several years and these issues are going to face the children until there is a new school. There is agreement across the community and elected representatives that Broadford has got to be a priority when it comes to building a new school.
"Nobody will be content until there is a new school in place."
Ian Blackford MP said the Highland council now must make it an "absolute priority" to replace the school, adding: "The pupils and staff must have an assurance that their health, safety and educational environment is of the utmost importance."
Urgent investment
Broadford Primary School is one of 11 earmarked for development by the Highland Council amid the next round of funding from the Scottish Government.
The school in the south of Skye has been attributed to the list of educational facilities that the local authority deems to be in need of urgent investment.
Scottish Ministers announced a further £1billion schools investment programme in November, with a new Learning Estate Strategy due to be published in September.
Included on the list of priority schools by Highland Council are:
A new campus in Tain that will house young people aged 3-18
Nairn Academy,
Fortrose Academy,
Alness Primary,
Beauly Primary,
Broadford Primary,
Dunvegan Primary,
Invergordon Primary,
Kiltearn Primary,
Tarradale Primary,
St. Clements special school
Budget Leader Alister Mackinnon earlier said: "The Council's capital planning now assumes £50million of capital over five years to support the 11 specific school priorities we have identified out of our total school estate of over 200 schools.
"The proposed capital investment is based on £25million of Council funding plus an assumed successful bid to Scottish Government for a further £25million, when this process opens later this year.
"However, £50million would not be sufficient to address the capital investment required for all 11 schools."
He added: "We appreciate that communities want the best possible schools and are doing everything we possibly can to be bid-ready to make the funding case for these schools.
"We will continue to engage with the Scottish Government and the Scottish Futures Trust, with regard to the 11 priorities and the wider school estate within Highland and will continue to pro-actively make the case for investment in Highland schools."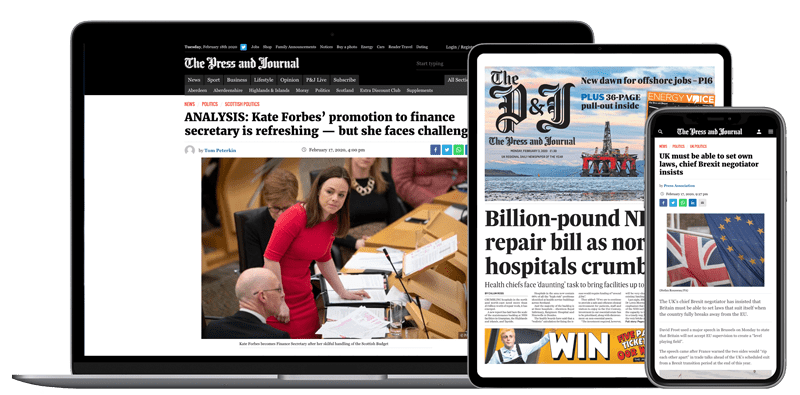 Help support quality local journalism … become a digital subscriber to The Press and Journal
For as little as £5.99 a month you can access all of our content, including Premium articles.
Subscribe