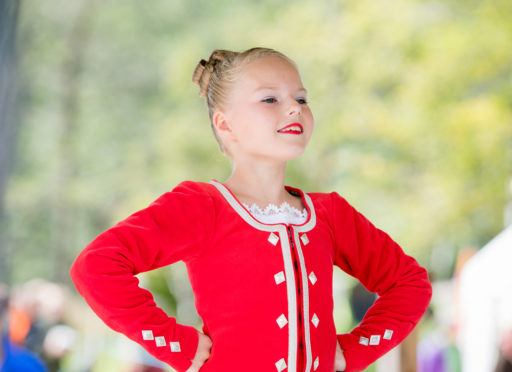 The crowds that assembled for Saturday's Glenfinnan Highland Gathering were all champions, not least for braving the rain.
In a day of  inclement weather, changing from sunshine to wind and showers within moments, more than 1,000 people went through the gate at the annual gathering.
Organisers said they were happy with the day and the numbers of people taking part.
Traditional musician Fergie MacDonald donned his famous red socks as chieftain.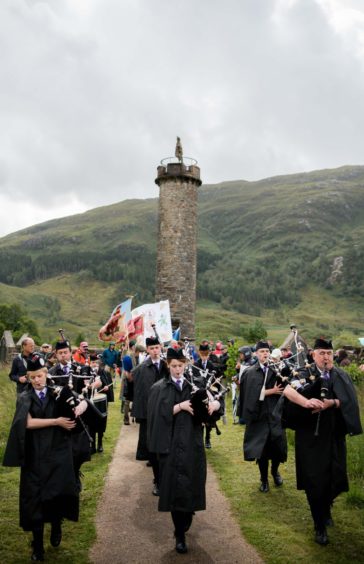 Mr MacDonald praised the crowd, and said it was an "absolute privilege" to be the chieftain at such an important gathering.
He said: "It was a good day and the weather didn't dampen spirits. It was so good to see so many friendly faces."
Angus MacPhail, founding member of traditional music group Skipinnish, put down his accordion for the day to compete in the men's heavyweight events.
Mr MacPhail said: "It was my first games as a heavyweight competitor in a few years and I'm delighted to get a cup for winning the heavy hammer.
"A few other firsts, a couple of seconds and even a last – in the dreaded shot putt. Came second overall and had a great day. "
From bus drivers to policemen, there were a huge number of competitors taking part in the piping and Highland dancing competitions.
Large numbers took part in the events – set only a stone's throw of where Harry Potter's Tri-Wizard Tournament was filmed.
Visitor Linda Barnes, from Seattle, said she thought the whole day looked "magical".
She added: "I cannot believe that Highland games really exist. It is so nice to meet so many lovely Scottish men in one place."
At nighttime, three up-and-coming traditional music super stars, Michael MacLeod on button accordion, Hannah MacRae on fiddle and Lauren Byrne on guitar and voice were in fine form, as The Lochy Ceilidh band wowed games survivors with a good mix of fine dance tunes alongside outstanding singing.
A group of Americans who had made their way to Glenfinnan to join in with the games were delighted to learn the Boston Two Step, The Gay Gordons, the Military Two Step and the Virginia Reel – taught by some very enthusiastic locals.
Results in full
Piping
Piobaireachd: Sandy Cameron
Marches: Jason Craig
Strathspey and Reel: Dan Lyden.
Under 17 marches: Laura Robertson
Under 17 Strathspey and Reel: Ronnie MacIntosh
Cameron-Head Scholarship: Laura Robertson
Highland Dancing
Fling, Strathspey and Reel, Sean Truibhas Schottishe, Jig: Laura Smith
Hornpipe: Laura Boyle and Laura Smith
Strathspey and Reel: Darra Wood, Swords: Dara Wood
12-15 -Fling, Strathspey and Reel, Sean Truibhas: Innes MacKenzie
12-15 – Swords and Flora: Megan Playle
8-11 Fling, Strathspey and Reel, Swords: Eilidh Smith
8-11 Sean Truibhas and Flora: Zoe Gibbs
MacKellaig Cup: Laura Smith
Adult Swords trophy: Darra Wood
Glenfinnan House trophy: Innes MacKenzie
MacGuire Cup: Eilidh Smith.
Athletics
100 yards, half mile: David Farrington
200 yards, one mile, hop step leap: Matt Waterston
Hill Race: Keir Robinson
16llb hammer, 22lb hammer, 28lb weight for distance: Angus MacPhail
16lb ball, long jump: M Waterston
Caber, 56lb weight over bar: A Davidson
High jump: Donald MacDonald.
12 -16 100 yards: Ray Husain
12 -16 long jump, hill race: Jamie Langley
12 -16 high jump: Connor Everett.
Under 12 high jump: Sam Sheasby
Under 12 long jump: Freddie Langley
Under 12 boys/girls race: Alex Calver
Under 12 half mile: Luca Barricella.
Peto cup: Alasdair Davidson
MacLeod Cup: Angus MacPhail
MacMillan Cup: Matt Waterston
Conaglen Trophy: Glenfinnan Tug O' War Team
Lang Trophy: Alasdair Davidson.