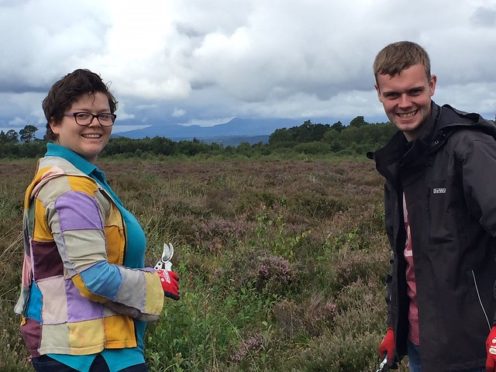 It may be more famed as the scene of a bloody battle, but a group of students are studying the historic uses of the plant life found at Culloden.
Cantraybridge College students have spent the summer propagating heather and other plants at the battlefield.
Their work with conservation charity the National Trust for Scotland will build towards a John Muir Award which recognises their skills and contributions to the care of one of Scotland's most important historical sites.
The students from the Croy college's horticultural unit have also been researching plants which are relevant to the history of the battle and will be designing new planted areas that showcase these fascinating stories.
They will give an insight into field setting 18th century medicine and plants that are linked with specific clans.
Culloden operations manager Raoul Curtis-Machin said: "This is a really exciting project to add to the stories we tell here at Culloden.
"The students are bringing their horticultural expertise and enthusiasm. They have the skills to propagate the plants, tell the historic stories about how the plants were used and help us beautify the car park and landscaping around the visitor centre.
"This is a great showcase for their work which will be seen by 250,000 visitors every year, who flock to Culloden from all over the world."
Cantraybridge College is a specialist further education college for young adults with additional support needs.
It promotes the skills and talents of young people with disabilities and champions the rights of young people by creating opportunities to learn and grow.
Leanne May, Cantraybridge College student said: "It's a great opportunity to help out at Culloden Battlefield. It's good that the tourists and visitors will be able to enjoy my work."
Ann Torrance, horticulture enabler at Cantraybridge College, said: "Our partnership with the team at Culloden is a great opportunity for us to become involved in a local project which offers us a fantastic location which we can use to further our students learning and interaction with the countryside around them.
"We are thrilled to be a part of this and look forwards to learning more about the battlefield and its value to conservation and diversity along with its connections to people. The students are really excited about being involved in this project."
The horticulture department at Cantraybridge runs a plant shop and a market garden. They grow everything using organic principles.
The John Muir Award is an environmental award scheme set up by the John Muir Trust as a way for people to discover and conserve wild places.