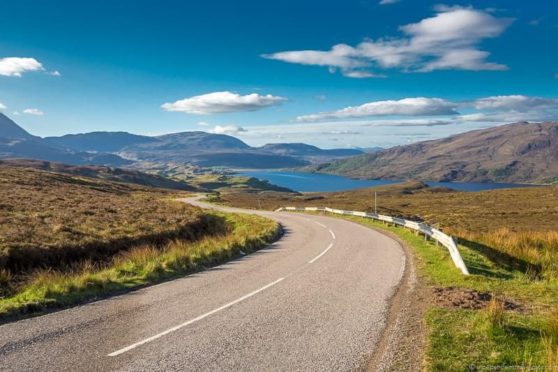 Road tolls on the NC500 tourist road could bring in funds to invest in improvements, a north MP has suggested.
Jamie Stone, MP for Caithness, Sutherland and Easter Ross, has written to Transport Minister Michael Matheson over the proposal for the North Coast 500 – Scotland's answer to Route 66 in America.
Mr Stone said despite being a "brilliant boost" to the far north and a benefit to local hotels and businesses, the route needed further funding to "reach its full potential".
Only non-local large vehicles, such as camper-vans, would be affected under the scheme, he said.
He added: "The NC500 has been a brilliant boost to the far north, benefiting local hotels and businesses.
"However, for it to reach its full potential we need to see increased investment into the roads.
"I have previously asked the Scottish Government to increase investment in the NC500 and I have now written to the transport minister asking him to consider a tolling scheme for non-local large vehicles like camper-vans.
"This would in no way impact local vehicles but could bring in money which would be earmarked for the maintenance of roads, lay-bys, signs and even toilets.
"A scheme like this would take time and care to implement properly but we must see support from the Scottish Government to ensure the NC500 reaches its full potential."
A study has revealed widespread unhappiness over how hordes of tourists have changed locals' lives along the route.
According to University of Stirling researcher Gary Woodcock there has been an increase in "antagonistic encounters between residents and tourists" and more residents moving away from the area as a direct result of the negative impacts of tourism.
A fifth of the road trip is on single track roads – and along them there have been complaints of convoys of motorhomes and vehicles either speeding or going too slowly.
But the route has received many accolades and a spokesman for NC500 said:"The North Coast 500 was created to boost the fragile economy in one of the most remote parts of Scotland and as such has been warmly received by people and businesses across the area where it has boosted the economy providing jobs, investment and has had a positive impact on rural depopulation.
"We continue to work with the police and local authorities to make sure the route is a safe and positive experience for everyone."
Since the route was launched in 2015 it has brought 29,000 more visitors to the Highlands and added £9m to the region's economy, according to a study commissioned by Highlands and Islands Enterprise.