A coastguard rescue team came across more than they bargained for on a routine patrol after discovering some unspent rockets dating back to the rehearsals for the D-Day landings.
The team at Nairn came across the peculiar-shaped lumps of metal as they scanned the Culbin area of the town on Tuesday evening.
They raised the alarm with the Coastguard Operations Centre in Aberdeen suspecting that the metal lumps may be more sinister than first suspected.
Specialist bomb disposal experts were sent to the scene to provide assistance, detonating the rockets after fears were raised over the stability of the explosive devices.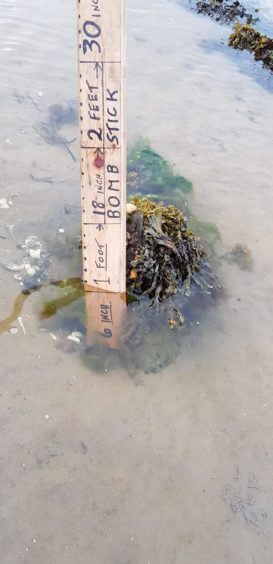 The Nairn team used their specialist 'bomb stick' to measure the length of the rockets, prior to alerting their colleagues in Aberdeen over their potentially deadly find.
A spokesman said: "This is not scrap. These are WW2 ordnance that was fired in this area as practice to the D-Day landings and these particular ones are barrage rockets that have high explosive inside of them and are still viable.
"We sent our pictures to our control room in Aberdeen who sent them to EOD (explosive ordnance device) experts down south and a team was dispatched to come to us as soon as they could.
"This time it was our great friends from Faslane Northern Diving team who came to deal with our find and they did a fantastic job, as always, in dealing with them.
"These guys really do have a dangerous job but are extremely professional and dedicated in what they do to keep our beaches safe.
"As always it was a pleasure to be of assistance to keep the area clear and safe for them to do their job."
A Royal Navy spokesman said: "We can confirm that Royal Navy bomb disposal experts from Northern Diving Group attended a beach in Nairn on Wednesday to examine several items of suspected ordnance.
"Four historic rockets, thought to be from the Second World War era, were found and made safe by carrying out two controlled explosions on the beach."
Nairn coastguard reiterated a message to members of the public that "if you find something you are not sure off, call 999 ask for the Coastguard and we will get to you as soon as we can and deal with it.
"Please don't touch it kick it or disturb it or let your dog run off with it."