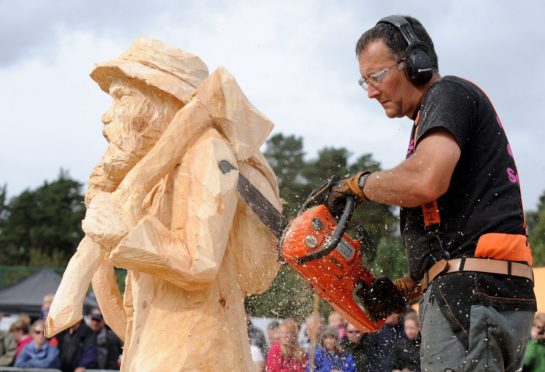 Family rivalries are to dominate this year's Carve Carrbridge as two brothers will go head to head, as well as a father and son.
The Open Chainsaw Carving Competition will see multiple winner Pete Bowsher, from Moffat, go toe-to-toe with his son Sam, who despite his mere few years as a carver, is already operating his own chainsaw carving business named Chip Off the Old Block.
With dad Pete taking home the title on seven out of the 13 occasions, Sam will need razor sharp skills and nerves on the day to thwart his father and come out on top.
However, Pete is sure to be gunning to prove that he is not over the hill just yet.
Former professional rugby player Mike Burgess, who has been in the carving business for six years, will be hoping that his brother Jonathan Sherwood will not be able to replicate his success of 2016, where he picked up the best newcomer award.
Just one female competitor is taking part this year, Sylvia Itzen from Germany.
She will be joined by her compatriot Michael Tamzous – the current titleholder – with other competitors hailing from the USA, Canada, Poland and Argentina.
Carve Carrbridge, which is entering its 17th year, takes place on Saturday, August 31 and is the ultimate speed chainsaw carving completion worldwide.
Thousands of visitors are expected to swell to the Highland village, alongside the six-strong judging panel to capture a glimpse of these incredibly talented competitors.
Carve Carrbridge organiser Gavin Gerrard said: "We've always said that Carve Carrbridge is an event for all the family and we're delighted to see the carvers have taken this quite literally with brothers and fathers and sons going up against each other.
"The Carve is a massive event for Carrbridge and would not be possible without the dedicated band of volunteers – with many of them making it a family affair too with sons and daughters volunteering alongside mothers and fathers!
"They work tirelessly to ensure everyone has a great day. We are also very grateful to the many local and national businesses that sponsor the event.
"I think the 2019 competition is set to be the best yet."
All carvings created on the day will be auctioned off after the day's conclusion.