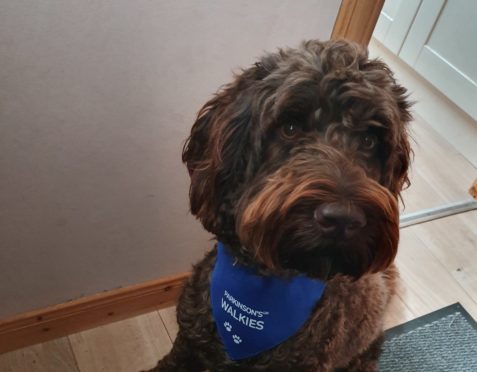 A Labradoodle from Inverness is looking forward to leading his owner Kirsteen Wood around the Walk for Parkinson's at Brodie Castle.
Kirsteen and her dog Harris would love as many people as possible to join them on Sunday September 8. Walkers can take a one mile or six mile stroll around Brodie's beautiful grounds.
Kirsteen was inspired to take part by her dad Hamish Wood who has been living with Parkinson's for five years.
She said: "I know how much Parkinson's UK does for people like my dad and how much he appreciates it. That fired my determination to support the charity and earlier this year I took part in the Great Glen Challenge and now I'm doing the Brodie Castle event. I'm hoping dad will be doing the one mile course and Harris and I will be walking six miles. Dad always tries to keep active and even with Parkinson's he likes to exercise when he can.
"Events like this are always great fun and I'm really looking forward to taking Harris along as he loves walking and meeting new people. Spending time with family is important and having my dad at the finishing line will bring a big smile to my face. Whether you can walk one mile or six really doesn't matter, what's important is helping to raise awareness of Parkinson's and support the charity."
Leah Cranney, regional fundraiser for Parkinson's UK, added: "We're delighted that Harris and Kirsteen are taking part in our walk at Brodie Castle. It's a fabulous venue and we want as many people as possible to join them and come along. It's only through the efforts of people like Kirsteen that Parkinson's UK can provide essential local services and fund world-leading research that will bring an end to Parkinson's. Forever."