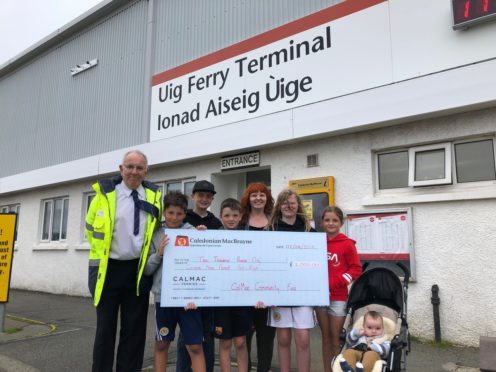 Gaelic medium primary school pupils in Portree will soon have somewhere to practise their language skills in the evening.
Thanks to ferry operator CalMac's Community Fund, Comann nam Pàrant Port Rìgh (CnPP) has been awarded £2000 to help with the set up costs of a new Gaelic youth club in the town.
CnPP committee member Dawn Campbell said: 'Comann nam Pàrant Port Rìgh was at the forefront of a long campaign to establish a Gaelic school in Portree and the group continues to support efforts to ensure Gaelic medium provision is improved at all levels. "A key way to augment the work in the Gaelic school is to ensure children have an opportunity to use the language for longer periods, out of school in social settings.
"CnPP is very grateful to CalMac for supporting our proposal and we look forward now to getting the club off the ground.'
CalMac's director of community and stakeholder engagement, Brian Fulton said: "We are already seeing the money put to good use in the Western Isles and I'm delighted that we are able to help set up such a valuable youth resource in Portree."
Other grants made in the Skye, Raasay, Small Isles and Mallaig area included £974 to Dannsairean an Eilein Sgitheanaich (DAES) in support of their MacKinnon Festival Trip project, £1,710 to Skye Events for All (SEALL) to help fund their Tune-Up Trad project, Skye Muay Thai also received £2,000 and the Staffin Youth Club project was granted £2000.