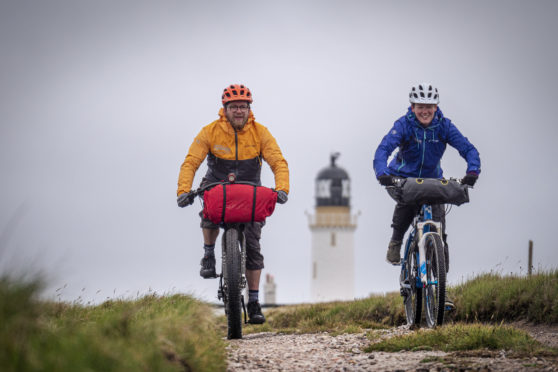 A new long distance bike trail connecting the very north of mainland Scotland to the north of England has been launched.
The 800-mile, ready-to-ride route links John O'Groats and Cape Wrath with the Peak District.
The Great North Trial has been mapped out at no cost to the public purse, using a network of established trails, forest roads and disused railway lines.
Cycling UK, who created the route, said around 98% of its length would take users on bridleways, byways, cycle routes, unpaved roads and very low traffic minor roads.
It takes in some of Scotland's most iconic spots of natural beauty, running through the Corrieyairack Pass, Loch Ness and Cape Wrath on the section of the ride dubbed An Turas Mor, Gaelic for The Long Journey.
It also passes through gems of northern England in the Peak District, Yorkshire Dales and Kielder Forest.
The charity said it had created the trail in answer to a growing demand from cyclists for greater access to the countryside, away from traffic.
It comes as the construction of the HS2 rail link between London and the north of England hangs in limbo amid cost overruns.
And plans for a cycleway up the spine of England, proposed to run alongside the high-speed line, have been shelved.
Cycling UK, however, hopes the Great North Trail could bring "enormous" health and economic benefits.
Research has shown the average spend for off-road cycling and mountain biking visits to the countryside to be as high as £15.71 per person, compared with the £8.68 spent by the average walker.
The charity's Duncan Dollimore said: "We've created the Great North Trail because we recognised very little has been done to promote national off-road trails.
"For example, plans to extend the Pennine Bridleway to Scotland were published 20 years ago, but still have not been implemented.
"And yet we know there is an appetite for more cycling access to the countryside.
"Off-road trails can be ideal for families to ride safely, away from traffic and city pollution."
The route is available to view and download on the Cycling UK website and through Ordnance Survey.