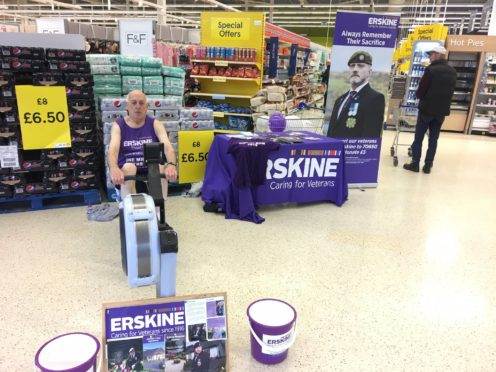 Highland army veteran John Baillie will hit an amazing "One Million Metre" target this weekend by taking to the water on a Hudson canoe.
Mr Baillie, 77, who hails from Durness in Sutherland and now lives in Inverness, has been clocking up the miles on his trusty rowing machine since April, raising nearly £7,000 for Erskine's veterans.
He has become a familiar face in the North in recent months when rowing in Tesco supermarkets. Now he plans to complete his final mile (or 1,609m) in style.  Anyone who would like to support him on his final row on the banks of the Caledonian Canal is encouraged to join him on Saturday.
The former Staff Sergeant with the Adjutant General's Corps 2/51 Highlanders said: "Having served in the army I am very aware of the difficult experiences so many service men and women go through so I wanted to do something to help the charity Erskine continue their wonderful work caring for veterans.
"The support I have received from the locals and visitors in every area I have been to, from Elgin in the East, to Ullapool in the North, has been overwhelming.  People have been so friendly and generous."
He added: "Saturday will be a special day as I row my final mile on water. I have been practising on the canal for a couple of weeks with the assistance of Inverness Rowing Club especially Paddy Walsh.
"I have heard some great stories from former staff and relatives who had nothing but praise for Erskine."
Erskine community fundraising manager Karen McAulay said: "John is a man in a million without doubt. His enthusiasm, energy and good humour are infectious. We have watched in awe as he rowed his way towards One Million Metres to fundraise for our Veterans."
On Saturday he will row to and from Inverness Rowing Club starting at 11am.
Sponsorship can be given at www.justgiving.com/fundraising/john-baillie4