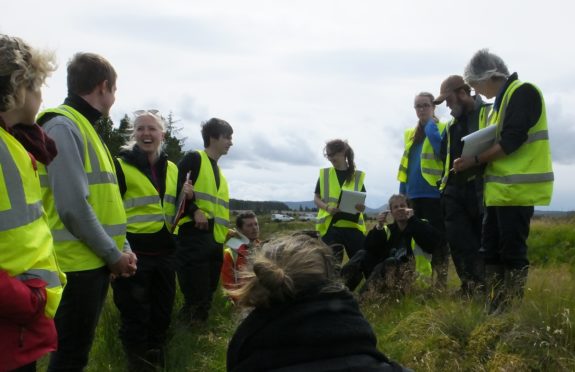 A group of Unesco volunteers have spent the last month removing more than 30,000 tree saplings and welcoming people to see the wonders of the Flow County in the very north of Scotland.
The Flow Country, the unique peatland around Caithness and Sutherland, was chosen as the UK's only location for the World Heritage Volunteer (WHV) programme this year.
As part of the project, RSPB Scotland were delighted to host thirteen young volunteers who came from different parts of Europe to the nature reserve at Forsinard Flows.
Activities involved conservation on the reserve – which included removing more than 30,000 non-native conifer saplings  – to helping the restoration process of the delicate peatlands which are believed to be vitally important in the face of climate change.
Martha Fleurant, one of the UNESCO volunteers said: "It was amazing that everyone was so welcoming and helped us to feel at home. Everything was very diverse and we got the chance to do different things, both natural and cultural."
Claire Foot-Turner, RSPB Scotland warden, said: "We were delighted to host the UNESCO young volunteers at RSPB Scotland Forsinard Flows. They were full of enthusiasm and energy for the Flow Country, its culture and conservation.  What they helped us achieve on the conservation work parties was amazing."