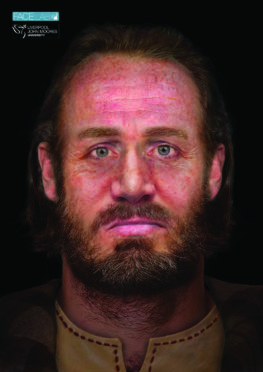 Experts have reconstructed the face of a man discovered within a 'six-headed' 15th-century grave in the Scottish Highlands.
Excavation work began at St Colman's Church in Portmahomack, Ross-shire in 1997, which led to the discovery of 88 burials dating back to the 13th and 16th century.
The unknown man was the second occupant of the "highly unusual" burial chamber, located at the centre of the nave at the front entrance to the medieval crypt.
The grave is understood to have originally belonged to a man who had died violently by the sword, prior to being buried with four further skulls set around his head.
Both men are believed to have perished during a period of internecine conflict between clan-based groups.
Cecily Spall from FAS Heritage said: "The facial reconstruction of this man is absolutely captivating. The Tarbat Medieval Burials project is aimed at understanding the lives of these men in as much detail as possible.
"The facial reconstruction brings them to life for us all and allows us to feel a renewed connection and understanding of them."
In the late 15th century, St Colman's Church – which has now been transformed into the award-winning museum, The Tarbat Discovery Centre – was burned down, in advance of a battle between the MacKay and Ross clans. It is likely the men in the six-headed burial were involved in the hostilities.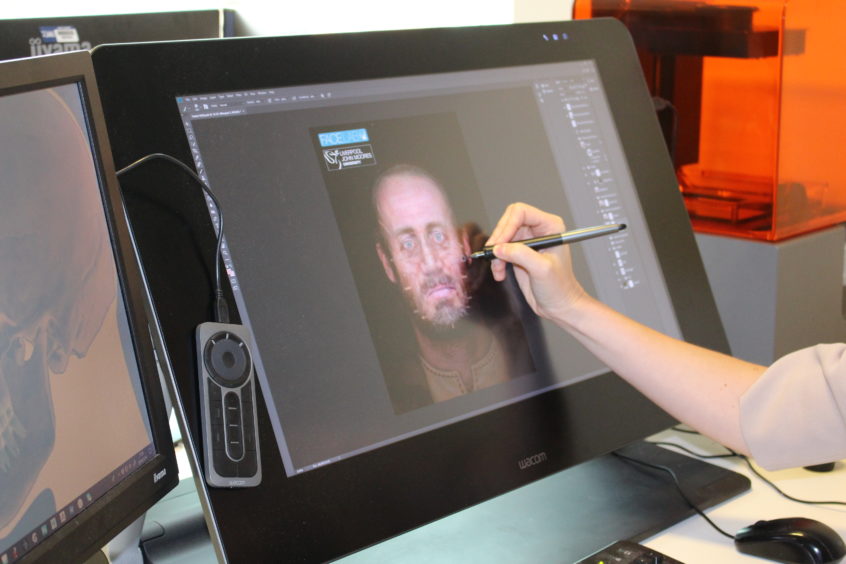 The reconstruction process was produced by Dr Jessica Liu and Dr Sarah Shrimpton at the Face Lab at Liverpool John Moores University as part of the Tarbat Medieval Burials project.
Based on a 3D scan of the skull, produced by Visualising Heritage at Bradford University, researchers created a 2D facial depiction guided by average facial soft tissue depth measurements from a modern European dataset.
They also employed high-resolution facial textures and individual features were then created, based on the specific morphology of the skull.
The reconstruction forms part of a wider collaborative project involving specialists in archaeological science who will analyse this burial and three adjacent male burials.
The project has been commissioned by FAS heritage and funded through grant funding from the Society of Antiquaries of Scotland and further support through a grant from the national organisation, Historic Environment Scotland.