Community war memorial restored in honour of WWII victims
By
Michelle Henderson
September 7, 2019, 9:31 am
Updated: September 7, 2019, 9:35 am
A 'forgotten' war memorial has taken pride of place at the heart of a Highland village in dedication to nine individuals who lost their lives during WWII.
The 70-year-old wooden community war memorial was first discovered within the Victorian hall, located on the banks of the Caledonian Canal two years ago, depicting the names of eight local men and one woman.
Following extensive research, the community relic has been recreated into a permanent stone monument, which will sit pride of place outside Dochgarroch Village Hall, following its £2.5million transformation into a café, retail destination and community hub
Representatives of the Army, Royal Navy and RAF were joined by the Depute Lord Lieutenant and dozens of family members outside the newly renovated Hall yesterday to pay tribute to "those who served their country in a time of war; who left and never returned."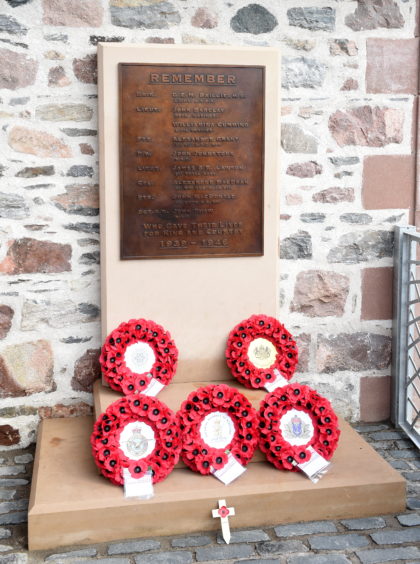 Lead researcher Douglas Yule, said: "The Dochgarroch Hall War Memorial is part of the history and social capital of the village, placed there by friends and family who wanted the memory of their loved ones recorded where their community would remember their sacrifice.
"It's been a real catalyst for reigniting people's interest in their families and also of course, from my point of view, they also know that this place is a special place and they have a reason to come here."
Ian Barclay, 69, from Inverness was among the attendees to honour his late uncle Lieutenant John Barclay.
Lt Barclay was serving with the Royal Marines when he was killed three weeks after the D-Day landings in Normandy in June 1944.
During the war, his brother George was one of 10,000 men from the 51st Highland division captured at St Valery. He was forced to march to Poland before spending four and a half years as a prisoner of war, where he discovered the tragic death of his brother John.
Mr Barclay said he was "very honoured" to see his uncle being remembered in his hometown.
He said: "My grandparents, they had four boys, three of them went to war and the youngest was too young. John was the eldest.
"I never knew this plaque was here. It was so close to home as well. His name is on the memorial at Cavell Gardens and I used to go there with my father when I was a young boy but this is just tremendous, it really is.
"It's a fine tribute to the nine names and their families, and I personally am most grateful to all concerned."
Mr Yule said the project was one of the greatest achievements of his life.
He added: "We discovered remarkable tales of ordinary people who were farmers, gamekeepers, clerks, and policemen – people with families from this area who never saw them return. It was a privilege and a pleasure to find and meet some of these family members, share their memories and add our research to their family stories."
Williamina finally remembered
Williamina Cumming, known locally as Winnie, was born in Dochgarroch in 1921 in the cottage opposite the communities village hall, owned by her father the head lock keeper.
For generations she attended the local primary school alongside her four siblings before transferring to Inverness Academy.
At the ripe young age of 18, the young entrepreneur went on to pursue a career with the Post Office's savings bank, packing up her life and moving to London.
However, 18 days into the London blitz in September 1940, Miss Cumming died aged just 19, becoming one of 67,000 civilians killed during the conflict.
To mark her death, her name was placed on the war memorial in her home town– displayed within the village hall – describing her as a civil servant.
Following the discovery of the memorial two years ago, lead researcher Douglas Yule was inspired by her inscription; leading him launch the elaborate research project.
Miss Cumming's nephew Iain Wilson, 63, Twickenham and niece Catriona Webster, 62 from Culloden attended the community's dedication ceremony yesterday.
He said the project has left them interested in finding out what led the budding young woman down this path.
He said: "We have prompted by the project to put our heads together with the different pieces that Catriona knew and I knew and we have a cousin Wilma who also lives in Inverness and we have been sharing photographs, some of which we didn't have or hadn't seen before and stories. We think we know a lot more now prompted by this exercise than we did individually beforehand.
"The thing that surprised me was how she had left in a way such a local story. She was born there, she went to school from here to Dochgarroch School, she was at Inverness Academy and the next thing she's 17 and she's in the civil service in London. It would be lovely to know how she took that step really."