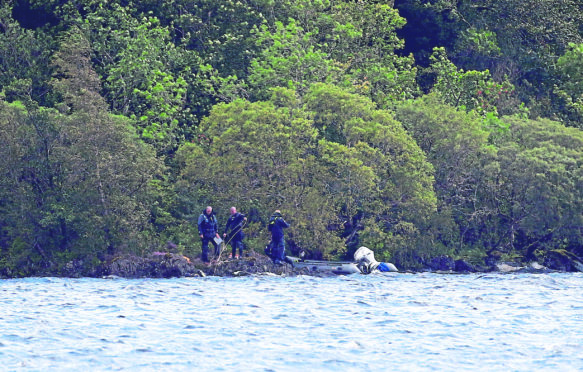 Call are being made for a fatal accident inquiry into the death of a young man killed in a Highland loch last month after marine investigators signalled the end of their probe.
Kieran Cowan, 23, was tragically killed after he and his two friends entered the water while out fishing on the loch shortly after 4.40pm on Saturday, July 17.
A full scale search for Mr Cowan ended in tragedy when his body was found five days later near to where it is believed he entered the water.
A Marine Accident Investigation Branch spokesman told The Press and Journal: "Two MAIB inspectors travelled to Loch Awe to gather evidence following the capsize of a vessel.
"Based on the information available, we have decided not to investigate further."
The news has led to calls for a sheriff-led fatal accident inquiry from fishing leaders and locals to investigate the full circumstances.
The two friends who had been with Mr Cowan when the incident happened were rescued and taken to Lorn and Islands Hospital, where they were later discharged.
It is understood they went onto help specialist police divers with their search.
It was revealed by a friend of Mr Cowan that he was due to become a father for the first time in the coming months.
Residents and users of the loch are calling for an investigation into the incident in the hope that future disasters can be prevented.
A spokesman for concerned Loch Awe fishermen said: "Everyone has again been left in shock by another disaster on Loch Awe, no one can forget that this young man's life was taken so suddenly.
"If it could have been prevented, then we want to know what could have been done.
"There were plenty of emergency services on the loch and there is no one saying that the response was anything but appropriate, but a young man died and we want to know why."
A previous Fatal Accident Inquiry found that the deaths of four men who died on Loch Awe on March 20 2009 was due to "cold water immersion".
The inquiry into the deaths of Craig Currie, William Carty, Stephen Carty and Thomas Douglas took place at Oban Sheriff Court  between 1 June 2010 and 11 January 2011.
Sheriff Douglas Small in his determination said the men's deaths might have been avoided if the deceased were wearing lifejackets and had not consumed alcohol prior to taking the collective decision to take their boat onto the loch.