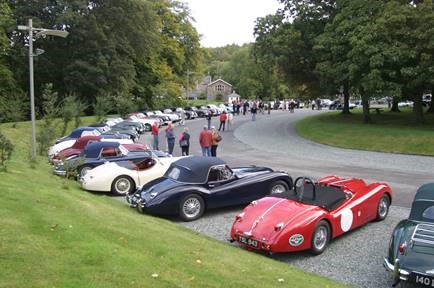 Jaguars will be descending on a north hotel for a show of a lifetime later on this month.
The cars with XK engines or badges will be setting off from the Kingsmill Hotel in Inverenss at 9.30am on the 12th stage of a £45,000 fundraising bid as part of the Round Britain Coastal Drive  on Friday September 27.
Drivers will have come from Plockton on the 24, via Lairg on the 25 for an overnight stop in the city prior to a trip eastwards to Montrose in Angus.
This year's 3,400-mile drive around the circumference of the British mainland will feature some new start and finish locations.
The event will be flagged-away from the National Motor Museum, Beaulieu, on Monday September 16 and will conclude on Thursday October 3 at Lyndhurst in the New Forest National Park.
Most participants choose to drive one or several of the event's 18 daily stages, but some all-rounders opt to drive the entire route.
Philip Porter,of the Round Britain Coastal Drive, said: "We are appealing to owners of XK-badged and XK-engined Jaguars, in the UK and further afield, to join us in some or all of the Road Britain Coastal Drive.
"This is an enormously enjoyable way of driving your classic car, seeing fantastic scenery, socialising with like-minded enthusiasts, and raising money for a great cause."
Anyone interested in taking part can find more information on the event website, roundbritaincoastaldrive.co.uk, or by phoning the International XK Club on 01584 781588.