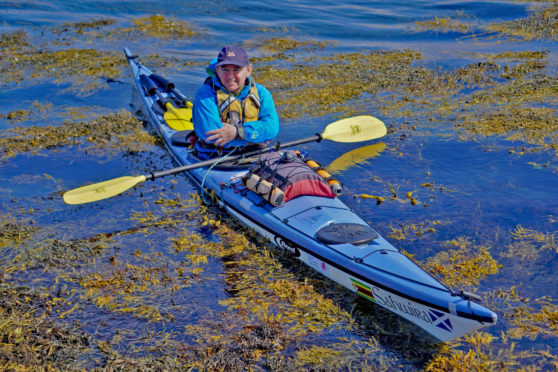 A man who jumped from a ferry in an attempt to end his life has bravely opened up about his ordeal and urged others battling depression to seek help.
Nick Ray had been travelling from his home on Mull to a psychiatric assessment on the mainland when he reached "the very bottom" and decided to take the drastic step.
The 56-year-old told his wife, Karen, that he was going to the toilet before leaping from the MV Isle of Mull as it made its way from Craignure to Oban.
Passengers were alerted by three loud blasts of the boat's horn, followed by an announcement that a man was overboard, and those on the top deck were asked to help pinpoint Mr Ray.
He had been in the sea for 30 minutes, and developed hypothermia, by the time he was fished from the Firth of Lorne and taken onto a rescue craft launched by the nearby MV Clansman. The shivering casualty was then taken ashore by the Oban lifeboat.
Mr Ray was told he was "fortunate to have survived" the ordeal, which took place in May.
Now, after spending three months in a psychiatric hospital recovering, the kayaking enthusiast says he is "a lot stronger and happier".
And, on the eve of World Suicide Prevention Day tomorrow, he has urged other people suffering from mental health problems to seek help before they reach such a stage.
He said: "I am a lot stronger and happier now.
"I didn't want this to be something that was hidden away, which is why I decided to share my tale.
"I have always been open about my mental health, but I appreciate it is a subject that people may not be so willing to talk about."
In an effort to stimulate more conversation around the subject, Mr Ray has documented his experience online in a series of blog posts.
He said: "The support I have received from other sufferers and their family members has been amazing, the blog has allowed people to understand what their loved ones are facing with such a terrible illness.
"It is really about bringing it into the public conversation so people are less frightened to speak about suicide.
"It is about giving people the courage to listen and not to place a sticking plaster over it. It can be quite frightening to hear – but that is the reality."
Mr Ray is now writing a book about an expedition he previously undertook to all the lifeboat stations along the west coast, in aid of the RNLI.
And he has been approached by a publishing company to document the experience of his battle with his mental health.
Mr Ray added: "My account is not intended to be sensational or glorify my actions.
"By writing about this, all I hope is it offers insight into the dreadfulness of depression.
"I felt a lot of shame and embarrassment about my attempt. But most people saw this as a moment of deep pain, there was no judgement and people realised that this was depression rather than a cry for help.
"There is no shame in asking for help if you are feeling suicidal."
In June, it emerged that the number of suicides in Scotland increased by 15% last year.
The NHS Information Services Division said there were 784 probable suicides in Scotland in 2018 – up from 680 in 2017.
The Samaritans offers free and confidential emotional support on a 24/7 basis, on 116 123 or via e-mail at jo@samaritans.org