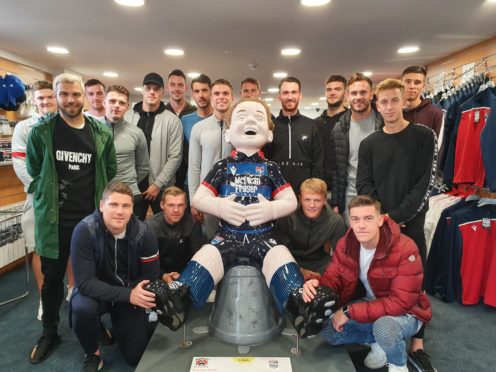 Members of the Ross County first-team squad have delivered their signed seal of approval as the final north based Oor Wullie gears up for departure to the final farewell event, which begins in Inverness and Aberdeen this Friday night.
Oor County Wullie is part of the 10 sculptures placed around the city of Inverness and has kept a watchful eye on his rival The Caley Thistle Oor Wullie from his perch on the northern side of the Kessock Bridge.
The sculpture will go under the hammer next Tuesday along with the other nine Oor Wullie sculptures based in the Highlands over the past 11 weeks.
Lorraine Christie, Ross County general manager, said: "It has been a real treat to have County Wullie at Global Energy Stadium for the past few days.
"The Big Bucket Trail has been a huge success and Ross County are delighted to have been part of this."
Stars such as Ross County club captain Marcus Fraser delivered their autographs on the bucket Oor County Willie is perched on, an attraction that is expected to add to the interest surrounding the sculpture.
Dawn Cowie, Archie Highland fundraising officer said: "It was the icing on the cake to have the players sign his bucket.
"We hope this will add some value to the sculpture at auction which would be the ultimate souvenir for any Staggies fan."
Oor County Wullie is one of around 150 sculptures in Oor Wullie's Bucket Trail – a nationwide public art trail running for 11 weeks in Aberdeen, Inverness, Dundee, Glasgow and Edinburgh.
Thousands of families have hunted down the sculptures during their 11-week stay in the cities, with 36 going on display at Marischal College quad in Aberdeen and 10 at Eastgate Shopping Centre in Inverness from September 13-15.