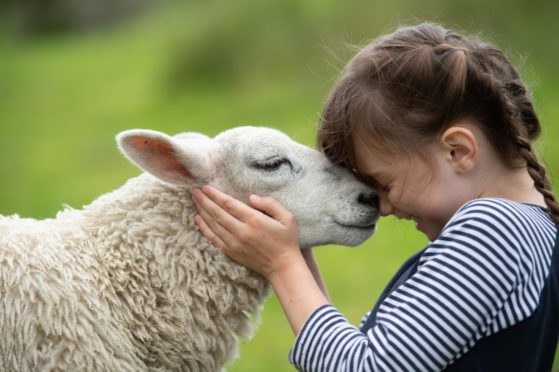 An overjoyed family has been reunited with their pet lamb three days after she was bundled into the back of a van.
Effie, who has been part of Gemma MacLeod's family since April when she was just two days old, was feared lost forever.
But yesterday the nurse and her five children were reunited with the friendly Texel – who has formed an inseparable bond with the family's two German Shepherds by joining them for walks, naps and meals.
Last night Ms MacLeod revealed that it was the cuddly lamb's unusual bond with dogs, as well as an appeal in the Press and Journal, that led to the emotional reunion.
Effie was eventually traced more than 20 miles away from the family home in Cromdale, near Grantown, to a farm near Rothes.
Ms MacLeod said: "A man was walking his dogs on Sunday evening and came across her. He thought it was a bit odd that she came right up to him and was being so friendly towards them but didn't think anything of it until he saw the newspaper article the next day.
"He went back and caged her in so that we could go and get her. She's a bit thin and a bit wary, which isn't like her, we're just so happy to get her back though."
Effie, who has named after the FA Cup due to her large ears resembling the trophy, was welcomed to the family after being born the weakest of triplets.
The family has spent the last five months lovingly hand-rearing the lamb to become part of the household with the two dogs. Initially sleeping indoors, she has now taken up residence in stables with horses and hens.
Yesterday, Ms MacLeod surprised her five children Jack, Zara, Ailish, Cailean and Orran with Effie when they returned home from school.
She added: "I don't think she would have made it all that way to Rothes on her own. The only thing I can assume is that whoever picked her up has then dumped her, because there weren't any other sightings of her along the way.
"It doesn't matter now though, we just couldn't be happier to have her back."