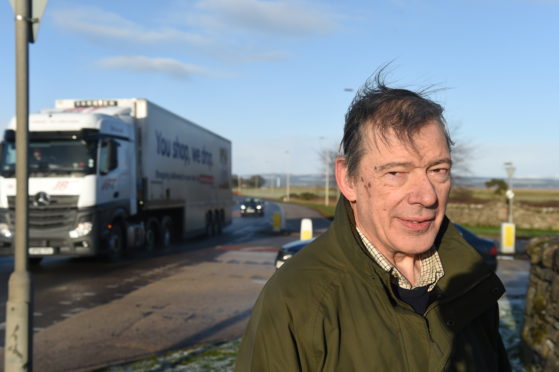 Members of the public will be invited to have their say over a proposal to reduce the speed limit at a Ross-shire crash blackspot in the coming months.
A traffic calming speed limit of 50mph is currently being proposed by Transport Scotland, which would be introduced on the A9 route north between the junctions of Asda and Lidl outside of Tain.
The area is notorious for crashes, leading to local campaigners calling upon the relevant authorities to introduce measures to save lives on the vital transport link.
The road is recognised as one of the most dangerous in the north, with an incident involving two vehicles occurring at the Asda junction just yesterday.
Minor injuries were sustained as a result of the crash, which occurred at 1.55pm, with a police spokeswoman adding that an oil spillage required attention following the collision.
One campaigner, Michael Baird, has liaised with Highlands and Islands MSP Rhoda Grant over improvements to protecting motorists.
Mr Baird, who previously stated that he feared a "catastrophe" before any change would be introduced, said he welcomed the changes but still feels further measures should be put in place.
He said: "The introduction of this is a help but ultimately what needs to be done here is what Transport Scotland initially said and that is the introduction of roundabouts.
"That is absolutely the best way of making those junctions safe to everyone."
Mr Baird added: "There have been so many accidents there. I see incidents on a regular basis.
"This will do something but I think it will be very difficult to police.
"This is not going to stop an accident or a fatality."
Highlands and Islands Labour MSP, Rhoda Grant said: "A 50mph limit seems a sensible option and I am pleased this is now progressed to formal consultation.
"Anything that helps reduce or eliminate accidents and injuries in this area has to be supported."
The proposal can now be viewed at Tain Post Office, on the High Street, with objections required to be submitted in writing to Transport Scotland by October 11.
A Transport Scotland spokesman said further details on the proposal cannot be confirmed until after the public have been consulted.
The figures
Figures last year revealed the Asda junction on the approach to Tain from the A9 was recognised as the most dangerous in the north over the past five years.
Eleven accidents occurred at the junction, where the A9 and the B9174 roads meet at Knockbreck Road.
The figures were published by The Press and Journal as we revealed that horror smashes on north roads occurred at a rate of more than one every fortnight on the A9 and A82 roads.
In total, 144 serious crashed occurred on the A9 Thurso to Dunblane road, in which 37 people died.