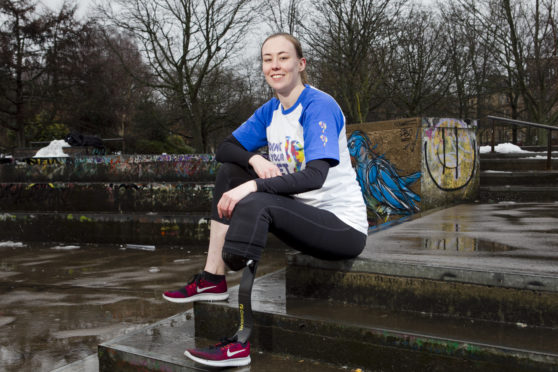 Nikki Etheridge oozes positivity, and her can-do attitude will no doubt see her cross the finish line of the upcoming Great Scottish Run.
The 29-year-old is preparing to compete in the 10k race in Glasgow at the end of this month, with a target time of just over an hour.
Her training has been hampered by a bad knee, but she is determined to give it her best shot in aid of Finding Your Feet.
The charity supports families affected by amputation or limb difference.
It has been five years since Nikki was forced to have her left leg amputated, to prevent cancer spreading to the rest of her body.
She was diagnosed with synovial sarcoma following weakness in her ankle, and had the limb removed when she was only 24 years old.
Nikki, who comes from Brora in Sutherland, credits her close circle of friends for helping her recover.
"I'm feeling pretty nervous, but I'm just going to give it my best shot," she said.
"I'll be running with a special prosthetic which is made to be used for sports," she said.
"It's different from my normal prosthetic because it has a lot more spring to it.
"I have come through a fair few challenges in the past, but I've never run a 10k before, so this will be a big test for me.
"I wasn't really a runner growing up, and although this is all rather new to me and outside my comfort zone, I think taking part in the event will be great fun."
A "few" challenges is an understatement, as Nikki has also participated in a 92km bike ride in the Dubai desert, and a sky dive in New Zealand.
"I think I set myself the challenge because I want to prove that I can still do everything I did before the amputation," she said.
"Completing the race will show how far I've come.
"I'd been to the doctor in my early teens because of pain in my ankle, but it was put down to growing pains.
"Years passed and then I started to go over on my ankle really easily.
"It got to the stage where I had to really concentrate when I was walking.
"Then I was diagnosed and everything changed, it was a huge shock."
Synovial sarcoma is a cancer that can come from different types of soft tissue, such as muscle or ligaments.
It is often found in the arm, leg or foot, and near joints such as the wrist or ankle.
"Because of where the sarcoma was, there was no choice but to amputate," said Nikki.
"It was the only way they could remove the cancer completely.
"I remember coming round from the operation and feeling this enormous sense of relief.
"The cancer hadn't spread, I felt so lucky.
"It's quite common for sarcoma to spread to the lungs, but here I was cancer free."
Nikki was up and walking within three weeks of the operation, but still had a long road of recovery ahead.
From learning to walk with a prosthetic to dressing differently, she has had to adjust to a new way of life.
"I remember when just walking up three stairs was a major achievement," she said.
"While I felt relieved, it was still a tough experience.
"Depending on what I wear, you wouldn't necessarily know that I have a prosthetic leg.
"It can be difficult to find skinny jeans.
"I've been very lucky to have an amazing group of friends though.
"They were very protective of me, but they also dragged me out.
"In the beginning I felt very exposed and self-conscious for a night out.
"But they made sure that I didn't hide away.
"I've been training for a year and I am going to think positive.
"Having a positive attitude has really helped me, along with a sense of humour.
"I named my leg before I was even fitted with the prosthetic, so it's known as Meg the Leg."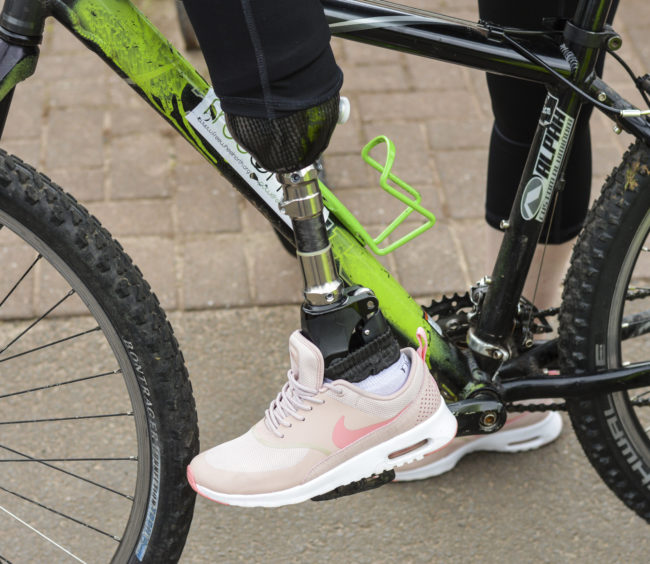 Nikki has also inspired fellow amputees, through her work with Finding Your Feet.
The charity was founded by Corinne Hutton, who lost both her hands and feet below the knee after suffering acute pneumonia and sepsis.
She went on to become the first Scottish double hand transplant recipient.
"I started off volunteering for the charity, and now I work for them part-time doing admin," said Nikki.
"There is help out there for those impacted by limb loss, and you can still go on to lead a completely normal life.
"I've had to adapt, of course, but I can do everything I want to do."
The Great Scottish Run takes place on September 28 and 29. Events include a half marathon, 10k and toddler dash.
For more information, visit findingyourfeet.net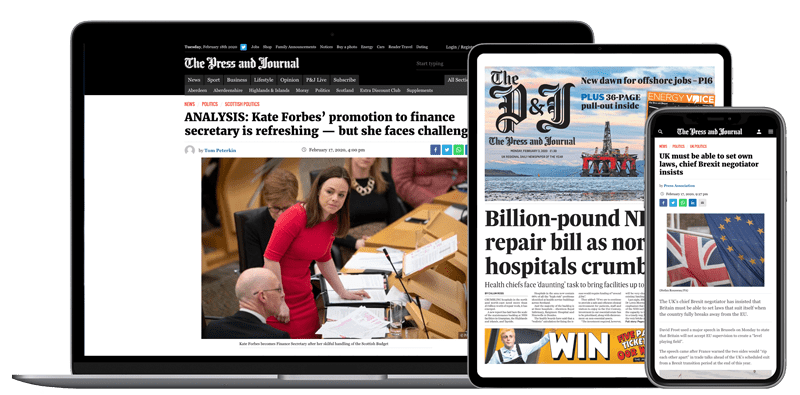 Help support quality local journalism … become a digital subscriber to The Press and Journal
For as little as £5.99 a month you can access all of our content, including Premium articles.
Subscribe