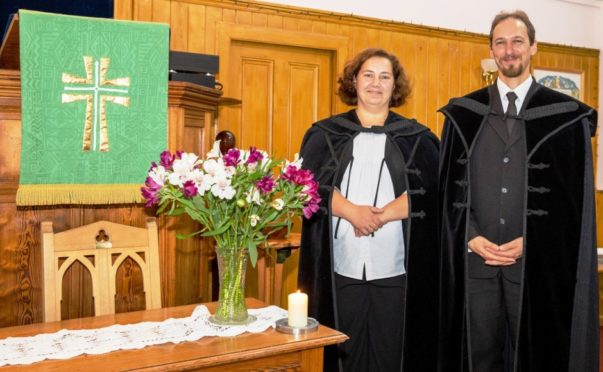 A Hungarian minister has taken up a new post in Shetland where the church is undergoing a transformation to meet the challenges of the 21st century.
Rev Tamas Bodis will be working mainly with congregations on the west side of the islands but will also be involved in the larger life of the presbytery. ​
The 39-year-old, who has moved with his wife, Rev Emoke Rozgonyi, and their children, Julia, Villoro and Botond, said he was looking forward to helping with the reform process.
Rev Dr Frances Henderson, Presbytery of Shetland transition minister, said the arrival of the family is a source of "great excitement and they have so much to contribute".
Mr Bodis said: "After 11 years of service with the Reformed Christian Church in Slovenia, we had to step back to see where God will lead us.
"When God showed us this place, we were impressed by how brave people are in Shetland as they are willing to face up to problems and are working to have a future.
"I hope we can learn from them and help them on this difficult journey."
Dr Henderson said the couple, who were introduced at a special service in St Paul's Church, Walls, last week, were experienced in ministering to small and scattered rural churches.
"We are delighted to welcome them and their three children, and hope that this will be the beginning of a friendship which will extend far beyond their year in Shetland," she said.
"As we reshape and remake our traditions for our own time and place, Tamas and Emoke will bring a valuable perspective as well as two extra pairs of hands."