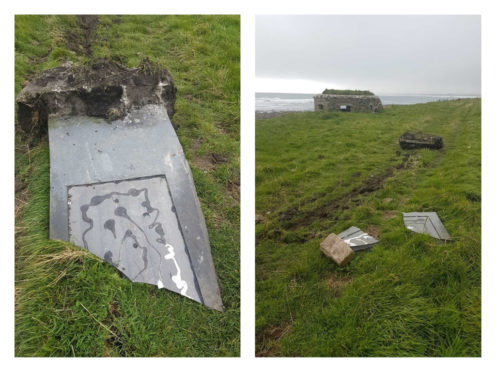 Caithness residents have expressed their shock after a stone information panel at one of their ancient monument sites was vandalised.
The standing slab of Caithness flagstone at Keiss Brochs was found knocked over and shattered into pieces, with the attached information panel removed.
The plastic panel was illustrated by well-known archaeological illustrator Alan Braby and gave information about the nearby brochs.
The stone installation was one of the first activities carried out by the Caithness Broch Project.
Project director Kenneth McElroy said he was taken aback, dismayed and disappointed at what had happened.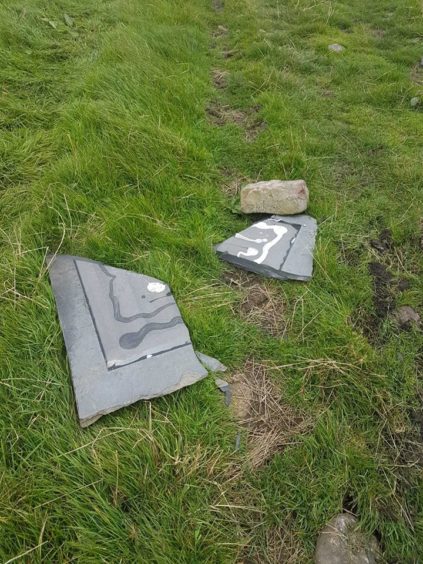 He said: "The panel was funded by Highland Council, and was voted for overwhelmingly by the Caithness public in a public vote in 2016.
"It was no mean feat to prepare it and take it to the site.
"It involved a lot of community volunteers, time and effort."
The stone sat in a concrete base requiring some force to knock over, Mr McElroy said.
He said: "A vehicle may have been involved but we really don't know why or when, or what's really happened.
"The police are involved and we will have to see where their investigations take us.
"Maybe someone will own up to it, but I think it will be hard to track down the perpetrator."
Social media comments describe the vandalism as  'horrendous' and 'disheartening', with some mentioning recent vandalism to other similar stone panels, including at Clachtoll broch and the Callanish standing stones in Lewis.
The Caithness Broch Project has two similar panels in other parts of the county.
Mr McElroy said he was not unduly concerned about these, but if any more vandalism took place he would regard it as a sustained attack.
Wick police confirmed they are carrying out inquiries into the incident.