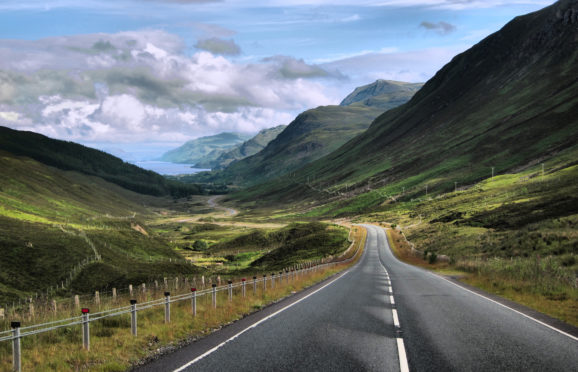 The NC500 tourist route has generated almost £23million for the local economy in just 12 months, a major new study has revealed.
The world-famous attraction – fast becoming Scotland's answer to America's Route 66 – also created 180 full-time equivalent jobs in 2018, the report found.
Described as Scotland's most successful route development since launching in 2015, it has however also attracted criticism as a result of the impact on roads – many single-track – and the behaviour of some drivers.
Many locals describe it a "win-loss" situation for those living along the route – with many reaping financial rewards, but others suffering.
The study, conducted by the Moffat Centre for Tourism at Glasgow Caledonian University, found that the route generated more than £22.89million in 2018.
Authored by Professor John Lennon, it highlights a boom in sales for accommodation, attraction, activity and retail businesses on or near the route, generated by the success of the NC500 brand.
Tourism businesses, including activity providers, tour operators, retailers, car and camper van rental firms and hospitality venues, reported a year-on-year growth of 16% over the four-year period to 2018.
There was a 19.9% boom in visitors to free admission attractions, while paid-for attractions benefitted from a 41.7% boost.
Room occupancy was also found to have increased from 52% in 2014, to 78% in 2018, with similar growth evident in average room rates, increasing from £46 (2014) to £82 (2018).
The quality of accommodation has also increased significantly, which suggests increased investment in hospitality and accommodation provision
The Moffat Centre study was commissioned by the North Highland Initiative (NHI) and Highlands and Islands Enterprise (HIE).
NHI chairman David Whiteford said: "The NC500 is now one of the top reasons for people to travel to Scotland, and with the stunning scenery, unique experiences, exceptional food and drink, the famous Highland hospitality, a wide range of activities and the fascinating history and heritage the North Highlands of Scotland has to offer, this is no surprise.
"The findings within this report are so encouraging to see, with businesses throughout the North Highlands succeeding, developing and growing with the NC500 brand."
But he added: "Moving forward, we are very aware that the significant growth reflected here must be managed and not be at the expense of any community.
"Instead we want to see people and businesses across the North Highlands benefitting from the investment in the area and the increased attention brought by the North Coast 500."
Jim Johnston, secretary of the Bettyhill, Altnaharra and Strathnaver Community Council, said: "I welcome the increase in trade and it has definitely livened up communities and the services being offered.
"But there is a negative, with a lack of investment in roads, the need for motorists to be informed into how to deal with our roads. People are constantly being held up going from place to place, including getting to work.
"There is a mixed balance to have with the NC500 as it has also been a huge economic success story, helping boost many businesses."