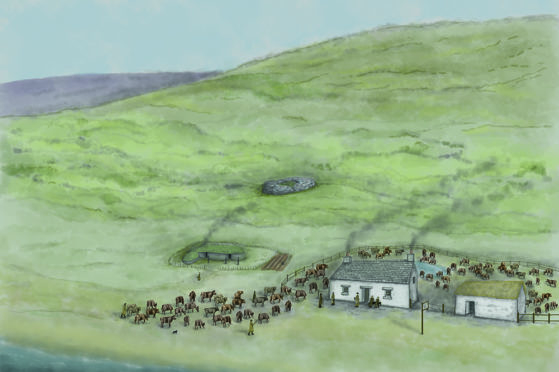 An archaeological dig in Sutherland has given a fascinating insight into local life just before the Highland Clearances.
The findings of the excavation at an 18th Century drover's inn near Brora show the Wilkhouse Inn, on the Kintradwell estate, had all the "mod cons" of the time.
The travellers' resting place boasted harled walls, glass windows, double chimneys and a slate roof.
The evidence shows the inn was a place pivotal to the local economy, and was in the process of developing further when the Clearances devastated the county.
The findings of the dig, led by GUARD Archaeology this summer, have been published in prestigious journal Archaeology Reports Online.
Lead archaeologist Warren Bailie explained: "We revealed evidence of habitation at Wilkhouse over a long period.
"The stone foundations of an earlier structure were found under the north-east gable of the inn while the coins testifies to the long-term use of the drove road, at least as far back as the late sixteenth century.
"Earlier antiquarian artefacts found nearby indicate occupation in the Norse, Pictish and Iron Age periods.
"The excavation also found a buried Neolithic occupation layer below one of the inn's outbuildings.
"The inn at Wilkhouse was a statement of modernity and affluence when built in the eighteenth century. It was constructed with harled stones, lime mortar bonding, glass windows, double chimneys and a slate roof.
"The level of investment suggests that there was ample passing trade to warrant the spend and was very much in contrast to many other drovers' inns in Scotland, which were often a longhouse built of drystone with wooden shuttered windows, low walls, central hearths set on the floor and a turf or thatched roof."
The report suggests that the process of change also brought about its demise. Mr Bailie continued: "The roadway was moved up the hillside and out of sight.
"Competition from newer inns at Brora and Helmsdale would have been damaging. However, underlying these lay the demands of the Sutherland Estate.
"The Kintradwell Estate where the inn lies came back under Sutherland ownership after a period in the hands of the Gordons of Carroll. It was cleared of its people in 1819.
"The inn was not be spared and by the coming of the railway in 1870 had sank into obscurity and was little more than a ruin."