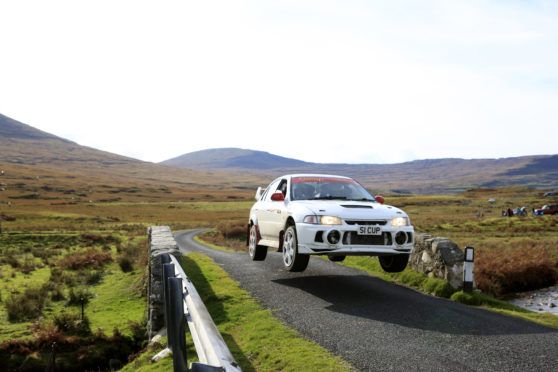 Scotland's first closed-road rally returns to Mull after a two-year break this weekend.
Mull Rally, which runs from Friday to Monday, brings £1million to the island's economy. This year is the 50th anniversary of the event.
Organisers were forced to cancel the 2017 and 2018 events because they couldn't get insurance.
This was while an investigation was being carried out into deaths which took place at the Jim Clark and Snowman rallies in recent years.
The Scottish Government adopted new legislation following the conclusion of a Fatal Accident Inquiry into the other two rallies.
In April of this year the Scottish Government published new legislation allowing Closed Road Motor Sport to take place in Scotland, replacing a former Act of Parliament that permitted the event.
It clarified the position and potential liability to the satisfaction of the Mull Rally team and insurers.
Clerk of the course, Andy Jardine said: "The island has missed the event over the last two years, but the sport has missed it as well. Mull is such a special rally for lots of people. Our thanks to everyone at Transport Scotland for pursing this legislation and for enabling the event to come back in time for the 50th anniversary."
Joy Robson, 51, from Skye, died after a rally car crashed at the Snowman Rally near Inverness in February 2013.
Iain Provan, 64, Elizabeth Allan, 63, and Len Stern, 71, died at the Jim Clark Rally in the Borders in 2014.
In 2015, Mull Rally suffered its own tragedy when co-driver Andy Mort, 47, from Mull died and his driver John MacCrone, also from the island, was seriously injured.
The last Mull Rally in 2016 was won by John MacCrone and Stuart Loudon.
Racing takes place over several stages including night stages in the Dervaig, Calgary and Gruibun areas. The first race starts at 7pm on Friday and cars rally throughout the weekend until Sunday.
Iain Campbell, deputy clerk of the course, said: "The islanders always suffer from Mull Rally Fever as the event gets closer. They all get very excited.
"It ends up being more of a week-long holiday than a 30-hour event. So many people have been going for years and they all use it as an excuse to meet up with old friends.
"I would say already if you tried to book some of the main hotels in the island for Mull Rally 2020 you would struggle to get in somewhere.
"It doubles the population of the island. There are 150 cars, each with two competitors. Each car has a team of at least six hangers on, mechanics, friends etc. We have 200 marshals.
"It makes a huge impact on the island right at the end of the holiday season and keeps businesses going until Easter."