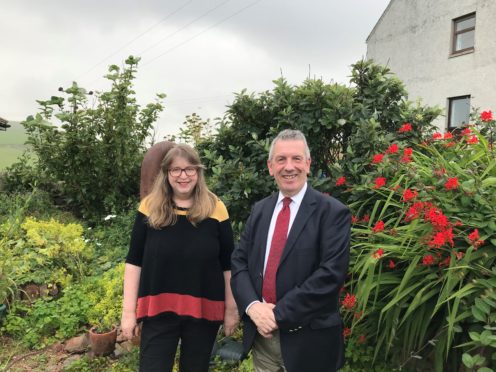 A Shetland doctor is calling for islanders to get the right end-of-life care to be able to die at home if they want to.
Susan Bowie's impassioned plea for the right to have full care at home has been raised in a motion to be debated the Scottish Parliament.
MSP David Stewart, who represents the Highlands and Islands, has already gained  cross-party support for his motion since tabling it a week ago.
His motion calls for an automatic right for people to have full care at home day or night for their last few days of life, with suitable palliative care available to the patient.
GP Dr Bowie raised her concerns with Mr Stewart on a recent visit to the island.
Dr Bowie said that in the past when someone wished to die at home, she was able to organise help for families in caring for their relatives.
She said: "This was in the form of  a type of hospital at home here in Shetland. It was a list of trained people who would be available on occasion to help if required, and to give relatives a break. It was a great low-cost service.
"However, this was closed in Shetland years ago and social care cannot fill the gap.
"Apparently, they are not available at night or at weekends."
Dr Bowie stressed that a recent study had shown that 70% of people wished to die at home.
Mr Stewart said: "Dr Bowie raised an important point with me, she says that you have the right to be born at home and the NHS provides midwives, but we don't have the right to carers to enable us to die at home.
"I am worried that people on Shetland are being treated differently to those in the rest of Scotland due to lack of carers – who can go in and support patients for their final few days.
"Often relatives are unable to do this, or just need a break from caring for their loved one, during a very stressful period.
"I hope other MSPs from all parties can get on board and highlight this so that a solution can be found."
The motion will be granted time to debate in parliament after finding support from MSPs Patrick Harvie, Mark McDonald, Claudia Beamish, Neil Findlay and Rhoda Grant.