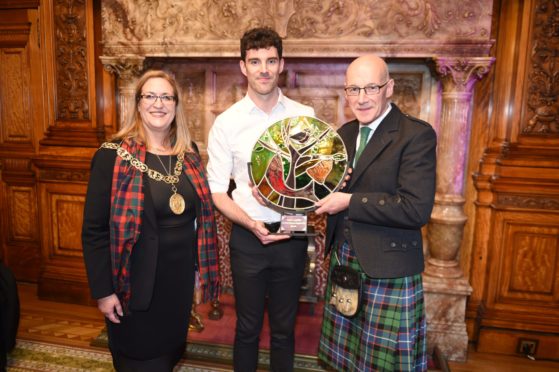 Gaels from across the country came together in celebration last night as Scotland's biggest Gaelic cultural festival began.
The Royal National Mod, Am Mòd Nàiseanta Rìoghail, made its triumphant return to the city of Glasgow for the first time in almost three decades.
Taking to the stage to mark the festival's long-anticipated grand opening, Deputy First Minister John Swinney pledged the Scottish Government would continue to "safeguard, nurture and promote" the Gaelic language through enhanced education opportunities.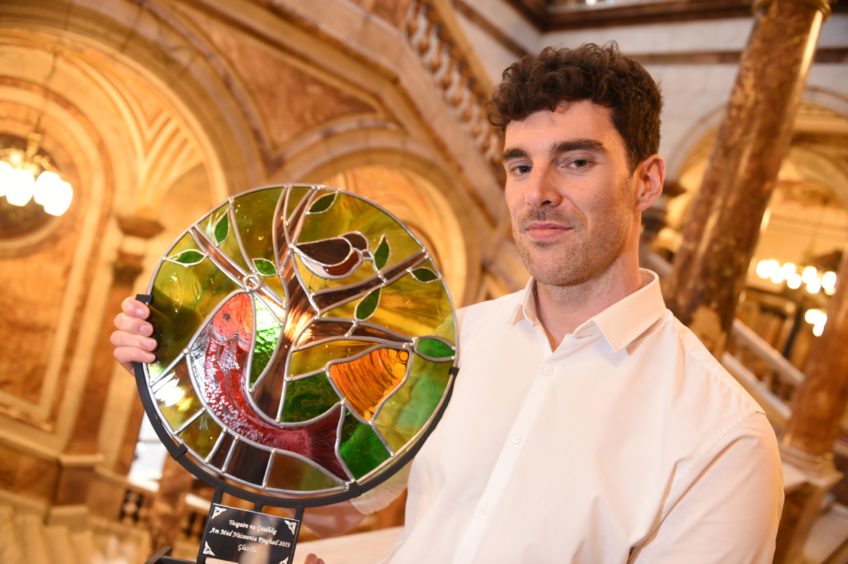 He said: "The Mod represents an excellent opportunity for Gaels and non-Gaels to gather and celebrate one of the key features of the Scottish identity.
"The Royal National Mod continues to attract a great number of participants of all ages and abilities and an amazing 3,100 participants will take part this year in events attracting up to 8,000 attendees over the course of its eight days.
"This is the international year of indigenous languages and the Scottish Government is a strong supporter of all of Scotland's indigenous languages and wants to see all bodies come together to support and promote their use.
"I stand before you tonight to reaffirm the absolute commitment of the Scottish Government to safeguard, nurture and promote the Gaelic language."
Festivities for the nine-day spectacular – organised by An Comunn Gàidhealach – kicked-off in style last night with an official opening ceremony held at Glasgow City Chambers.
It is the 13th time the festival has been hosted by Glasgow in its 128-year history, having last been hosted in the "City of the Gaels" in Govan in 1990.
John Morrison, Chief Executive of An Comunn Gàidhealach, said: "We are delighted to kick-start this year's Royal National Mòd and are excited to have Scotland's best Gaelic talent return to Scotland's biggest city for the first time since 1990.
"We are looking forward to a busy week with a variety of talent being showcased. From sport to choral singing to poetry, this Mòd has it all."
As Scotland's largest Gaelic cultural festival got underway, renowned musicians from across the Gaelic music scene took to the stage to perform.
Renowned Scots Trad-rock band Mànran headlined a special concert alongside the 33-strong Gaelic Eurovision Choir Alba, who serenaded attendees with a rendition of Lewis Capaldi's smash hit Someone You Loved.
The evening of incredible talent was brought to a close by Catherine Tinney, a finalist in this year's BBC Radio Scotland's Young Trad Musician of the Year competition.
Councillor David McDonald, depute leader of Glasgow City Council and Chair of Glasgow Life, said: "I am delighted this excellent showcase of Gaelic language and culture is back in Glasgow, given the indelible links between the city and Gaelic.
"It will be a huge opportunity for everyone interested in Gaelic or in Scottish heritage to get along and enjoy as much of the amazing talent and compelling performances as they can and ensure the Mod reaches as wide an audience as possible."
More than 3,000 competitors from across the globe are to descend on the city in the coming days to compete in this year's Mod as organisers celebrate a bumper year for entrants.
Participants will showcase their talents in more than 200 competitions during the packed festival, in Gaelic music and song, sport, art and drama.