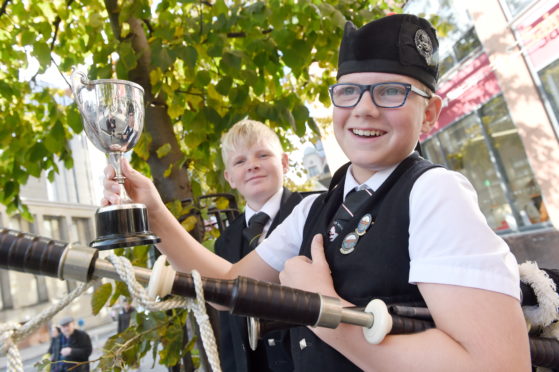 Talented pipers from across Scotland gathered at The Glasgow Royal Concert Hall on Saturday for the Mod's traditional music events.
Musicians of all ages gathered for the prestigious event alongside chanter, fiddle and piano players to battle it out for the top prize.
Archie Johnston, an 11-year-old from the Isle of Mull was one of the youngest competitors and did himself proud.
Following stiff competition in the under-13s piping March contest, the youngster walked away with The Roderick Ross, Ferintosh, Memorial Trophy – and that happened just a year after his older brother Logie, 13, claimed the same award.
IN FULL: The results from day one of the Royal National Mod 2019
Speaking of his accomplishments – which marks his second National Mod – Archie said he was "pleased" to have won  and is looking forward to winning more competitions in the future.
Meanwhile, his pleased-as-punch older brother – who has been piping for two years – said: "It was nice to keep the award in the family."
In a bid to hone their craft and earn extra pocket money, the youngsters take it in turns to showcase their talents to the public in Oban and at Craignure Ferry Terminal.
Proud mum, Jennifer, 36, praised the boys' dedication saying: "They both work really hard with their pipes.
"They play them all the time. It's a funny thing because I don't think you can make them practice the way that they practice. They enjoy it and they listen to piping music all the time. They are so enthusiastic about it, it's really nice."
Piper Finlay Cameron from Roybridge scooped the top prize in Mod's senior pipers March, Strathspey and Reel contest.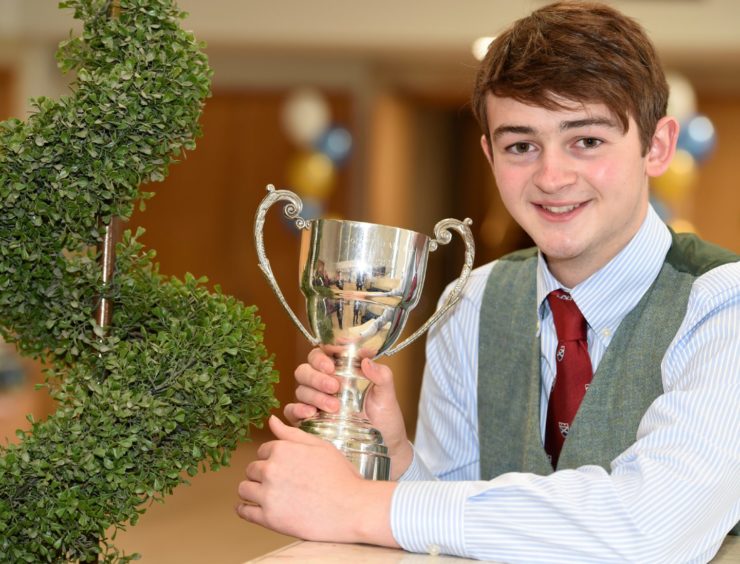 The 18-year-old Highland musician, who has been playing the instrument for almost a decade, was presented with The John T MacRae Cup during his first senior's appearance at Scotland's largest Gaelic contest.
His success at the Mod stretches back to 2014 when he won first prize in the 13-15 age group Bagpipes Open Competition in the Mod's host city of Inverness.
Speaking of his accomplishments, he said it had been a "tough" day of competitions.
But he added: "It's good, its a good feeling. It's never expected but it's very nice."
Meanwhile, 22-year-old John Dew from Crieff triumphed after an outstanding performance in the Ceol Mor piping competition.
Making his first appearance at The Royal National Mod, the young musician who studies the bagpipes at the The Royal Conservatoire of Scotland, accepted The James R Johnston Memorial Trophy.
He said: "It feels good, it feels great. It definitely wasn't expected. It's a tune that I love playing, so it made it a lot easier to perform it well when it's a tune you like to play. I went for a clean run from A to B, I got there and pulled it off."
As a day of tough competition drew to a close, 15-year-old Bobby Allan of North Lanarkshire left his mark on this year's competition, walking away with a first place in both the under 16's march piping competition and Strathspey and Reel contests.
The main events at the Mod – organised by An Comunn Gàidhealach – kicked off in glorious style on Saturday as hundreds of youngsters from across the country took to the stage in Glasgow to showcase their talents.
Competitions were held at various venues across the city including Glasgow Royal Concert Hall, City of Glasgow College and the Holiday Inn Hotel.
Meanwhile, Gaels came together in celebration of their heritage yesterday during a day of blessings in the city.
The Royal National Mod, Am Mòd Nàiseanta Rìoghail, held a special Gaelic ecumenical service at St Andrew's Cathedral ahead of a "hectic" week of competitions and performances.
Attendees turned out for the service, which was led by Father Ross Crichton and Reverend Michael MacInnes.
It was followed by a special blessing of the Orcuan, an iconic birlinn boat built by Galgael Trust, a community group based in Govan in Scotland's biggest city.
The boat is the first of its kind to be built in Scotland for 400 years and was once the primary mode of transport for the Scottish clans around the coast and waterways of Scotland until the early 17th century.
Today, the trust uses Orcuan to offer sail training and rowing opportunities to the local community, linking urban and rural communities and enabling access to some of the Clyde's natural heritage.
To round off the day of celebrations, Gaels attended a Celtic Praise concert held within the striking Princess Square on Buchanan Street.
During the event, a host of Gaelic and English choirs performed a variety of traditional songs, celebrating their strong heritage and culture across the city and further afield.