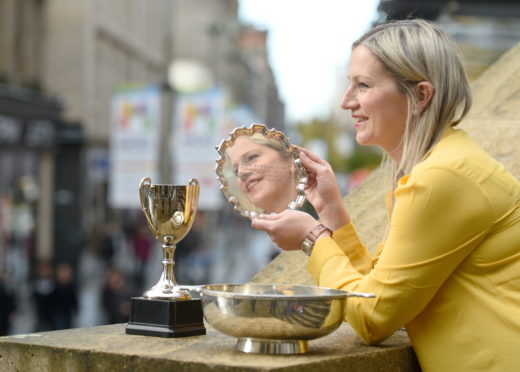 A Gaelic teacher has struck gold at the Royal National Mod as she prepares to move back to her homeland in the islands.
Claire Macaulay, originally from Ness on Lewis, moved to Glasgow when she was 18, leaving her singing days behind her and becoming a teacher at the city's Gaelic School, where she met her husband Donald.
After joining the Glasgow Islay Gaelic Choir in 2015, the 36-year-old decided after a decade long hiatus to enter in the Royal National Mod in Stornoway in 2016, where she won the Traditional Gold medal.
And now, three years on, she has struck gold for a second time after picking up the prestigious Gold Medal in the women's final at Glasgow's Royal Concert Hall.
During the qualifier stages, she scooping up a number of accolades including The Mary C MacNiven Memorial Salver, the Mrs & Mrs Archibald Macdonald Memorial Trophy, The Joyce Murray Trophy and the Jessie N MacLachlan Memorial prize.
Despite her fellow competitor Raonaid M J Deans being two points ahead in the nail biting final, she went onto clinch the title following her morning's success.
She said: "I was a nervous wreck on Tuesday and in the week leading up to it really, as I always am but yesterday I actually felt quite relaxed when on stage.
"It still hasn't sunk in. I have a million things going on so I am sure over the next couple of days, bumping into people it will and once I have had some proper sleep as well.
"My first gold medal I won at home and my second gold medal I won in what I consider my second home. It's all just lovely timing."
Her win comes as she prepares to leave the city and move back to the Western Isles next week.
Meanwhile, fellow competitor Ruairidh Alastair MacLennan from Glasgow was left pleasantly surprised after he claimed the gold medal in the men's competition.
The 26-year-old BBC Scotland reporter, is celebrating his highest win in more than a decade after previously laying claim to the Boy's Silver Medal around 13 years ago.
Reflecting on his success, he said: "Its a big, big surprise if the truth be told. I am delighted, very pleasantly surprised but delighted particularly seen as it is in my own home city of Glasgow and in many ways it was the fact the Mod was being held in Glasgow which prompted me to come back and compete.
"I hadn't competed at a National Mod since I won the Boys Silver Medal and you know how it is, the longer time goes on its unlikely  you are to come back to it but I was prompted by a number of people very close to me to give it a go this year. We worked hard at it and I am glad to say that it went really well, much better than I had expected certainly."