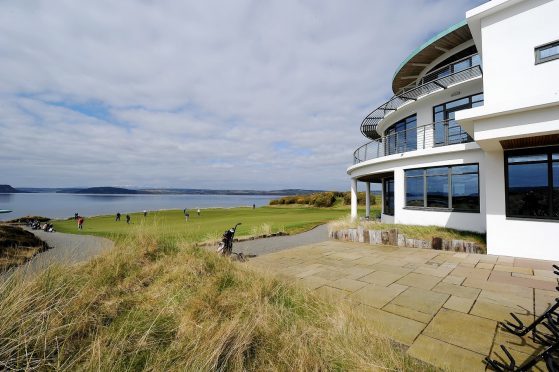 A new championship golf course for one of Scotland's exclusive clubs is being recommended for approval – with an economic boom being predicted.
Owners of the Castle Stuart course near Nairn, which has played host to the Scottish Open four times, have submitted a renewed application for a second course at the site.
Previous plans were approved by Highland Council in 2016, with a view to completing the extension by 2020.
The proposal had the support of US golfing great Arnold Palmer, who at the time had a business empire in golf course design and leisurewear worth more than $700m.
He visited Castle Stuart in 2015 to survey the terrain and meet course staff, aiming to put his stamp on what he envisaged the new course should look like, but died in 2016.
Now the club is aiming to get the development back on track.
Highland Council' south planning applications committee will consider the new scheme next week.
Planning officials have recommended approval, subject to conditions, with a report stating: "The golf course development will be similar in size and scale to the existing championship course and will be defined by the foreshore of the Inner Moray Firth and Castle Stuart Bay, extending northwards to incorporate Castle Stuart as a focal point.
"The remainder of the proposed course extends northeast toward the existing course providing easy access between the two courses and will be served by the existing main vehicular access, car park and club house.
"The form of the course will be similar to the existing in terms of vegetation and layout and will employ many of the construction techniques learned from the processes involved in the development of the first course.
"The proposal was the subject of the council's pre application consultation process for major developments in June 2019 where general support for the principle and scope of the development was given.
"The development of the second championship golf course at Castle Stuart is to be welcomed and will be of economic benefit to the area enhancing a well established existing facility."
The report adds: "The key environmental issues associated with this development are similar to those of the first course and the applicant has demonstrated through construction and operation of the existing course an understanding of the need to ensure that the habitat, flora and fauna of the area is protected in accordance with the relevant regulations and guidance.
"The course will provide an opportunity to expand existing facilities with the potential to encourage tourists to the area.
The Inner Moray Firth and Castle Stuart Bay are important wetlands supporting 'nationally scarce plants' and supporting up to 20,000 waterfowl as an important over wintering and roosting site.
Earlier this year, the club said it was in discussions with a number of potential investors, including the Arnold Palmer Group.
Inverness councillor Ken Gowans said: "I think one thing we do need to do is increase the visitor facilities and the opportunities to promote tourism.
"Castle Stuart has been very successful in the past, in fact one of the jewels in the tourism crown. It has hosted many events and competitions and provided a great amount of economic stimulus for the area as well."