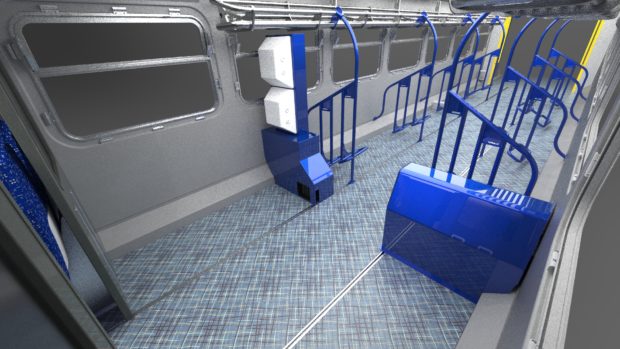 Cyclists travelling on one of Scotland's most scenic railway lines through the west Highlands are to benefit with specially designated carriages to carry bikes and large sporting equipment – a UK first for the rail industry.
The move, which is currently being trialled as a pilot scheme on the ScotRail-operated service, will see five Class 153 trains transformed to be able to carry up to 20 bikes.
Specially designed racks to accommodate for the bikes, sporting equipment and large items of luggage – as well additional seats – will be delivered to the West Highland rail line in 2020.
The newly designed carriages will also be able to support winter sports equipment, owing to the benefit of the winter ski season to the Scottish economy.
ScotRail's project manager Tom Smith said: "This innovative pilot is the first of its type in the UK and we're delighted to have come up with something truly bespoke for Scotland and the west Highlands.
"We are continually looking to enhance the experience our customers have when travelling on our trains, and the introduction of these carriages will be a welcome boost for cyclists and those in search of outdoor pursuits.
"This project will support tourism, and bring wider economic benefits, along Scotland's most scenic railways."
The carriages have been modified by Brodie Engineering of Kilmarnock, which have been kitted out with a full interior and exterior refresh plus Wi-Fi, power sockets and refurbished toilets with controlled emission toilet tanks.
The move has been praised by government officials who have said the project is in fitting with the Scottish Government's commitment to economic development through active tourism and improved transport connectivity.
Transport Scotland Director of Rail Bill Reeve said: "This unique initiative will provide an affordable and accessible way to access the great outdoors and support more people to make active travel choices whilst delivering wider economic benefits for Scotland.
"It's a very exciting time and we are another step closer to realising our ambitious Programme for Government commitment."
The scheme has been designed to encourage more people to make active travel choices.
Brodie Engineering Business Development Manager Jim Thomson said his firm were "delighted" to undertake the "ambitious and exciting project" adding that "the ability to design and manufacture on the same site really sets us apart from our competitors."