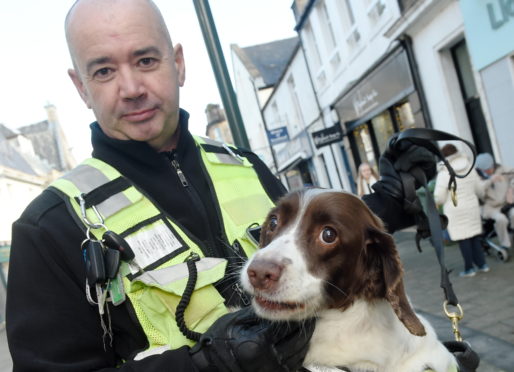 Dixie the tobacco detection dog is hard at work on the streets of Fort William.
Heads turn to have a look, and passers-by extend a hand to pat the brown and white spaniel. Her tail wags non-stop as her handler Bobby Crainey patiently explains their business.
The pair are in Fort William for the first time, working with Highland Council's trading standards officers Catherine Cumming and Glenys Brown to carry out unannounced checks in premises across the area, looking for illicit tobacco.
The team approaches a shop on the High Street, and Catherine and Glenys head in first.
They show their ID to the owner, and explain their business as Bobby and Dixie step inside.
The owner is happy for search to take place. Dixie's already at work, sniffing frantically, tail banging against shelves and doors.
Totally focused, she's working for a tennis ball, her reward if she detects a whiff of tobacco stashed anywhere.
No results.
The team continues popping into various  random premises along the High Street.
The friendly welcome from shop owners is quite striking. They happily make every inch of their premises available to the busy Dixie.
In one shop she has a tennis ball moment when she indicates the presence of tobacco – but on investigation the team find that it's perfectly legal product.
The team also targets taxi ranks and pubs, all of which come up clear, but there have been hits in other parts of the Highlands.
Catherine said: "We used the dogs in May for a search warrant in Caithness where we had intelligence that illicit tobacco was being sold.
"The dog uncovered 1,540 counterfeit cigarettes and 6lb of hand rolling tobacco in the corner of an office in the property.
"We've also seized 600 cigarettes and 9lb of hand rolling tobacco, all counterfeit, in Inverness when executing a search warrant.
"We test-purchased tobacco which was being advertised in a number of Facebook buy/swap/sell type groups for Inverness and found it to be counterfeit."
Trading Standards deal with offences by reporting them to the Procurator Fiscal; an order or undertaking through the Enterprise Act, or sending out a warning letter.
They carry out follow-up visits to premises to see if the warnings have been taken on board before escalating the situation towards a fine or potential prosecution.
Dixie and Daisy
Dog handler Bobby Crainey works Dixie and Daisy all over the country from the busy border ports in the south-west to Lerwick and all points in between.
He's a former army dog handler, and worked for 30 years for one local authority as a dog handler and trainer. It's obvious he loves the job.
He says: "We travel the length and breadth of Scotland, and have the satisfaction of making sure everything on the street is legal, genuine product.
"On a good few occasions we get to take quite a lot of illicit product off the street as we did recently for another local authority. We took almost 30,000 cigarettes and 34lb of hand rolling tobacco that came from all over the world, the Middle East, Ukraine, products I hadn't seen before.
"You get smuggled genuine product that hasn't had duty paid on it, and you get counterfeit illicit product."
When eight-year-old Dixie takes a rest, two-year-old Daisy takes over. She's a black and white sprocker, a cross between a springer and a cocker spaniel, and bounces several times her own height with excitement.
Bobby says he selected her for her size, smaller than Dixie, so able to squeeze into tiny spaces to search for contraband. She's been trained to detect tobacco, and also pyrotechnics, as these are becoming an anti-social danger around football grounds in other parts of Scotland.