Hotel workers living in staff accommodation across the Cairngorms face eviction to make way for paying tourists, it has been claimed – placing an added strain on a housing crisis in the region.
A lack of affordable homes in Strathspey and Badenoch is one of the major issues being highlighted to local councillors – and homelessness has now become a huge concern.
Business owners have spoken out about losing senior staff because their workers have nowhere locally to stay.
Politicians have also spoken out about their concerns, while the Citizens Advice Bureau (CAB) say more must be done to house low-income workers.
A tourism boom is being hailed in the area, particularly in Aviemore, despite the popular funicular mountain railway still shut after being closed last year for safety reasons.
But Highland Councillors have heard of deep concerns regarding a lack of affordable housing in the Cairngorm National Park Authority area.
The Badenoch and Strathspey Committee, who meet on Monday, heard of the park authority's economic action plan for 2019-2022, raising concerns about housing and homelessness.
Their minutes being presented to the committee read: "There was a need to address the lack of affordable housing in the park area particularly for key workers who were critical to servicing the local businesses that were paramount to the economic vision of park.
"Although the need for short-term housing lets was recognised, the level of demand for visitor beds was so high that there were circumstances whereby local hotels were considering converting staff accommodation for this purpose, which would further exacerbate this shortage.
"The level of homelessness, even amongst affluent people, was increasing. Further information was sought on how the Action Place could assist with these local issues."
Local Green Highland Councillor Pippa Hadley was yesterday attending a Cairngorm Business Partnership event, where she said: "Speaking with local employers reaffirms that this issue is causing very real problems within our economic landscape.
"One business I spoke to is facing the loss of three managers due to lack of accommodation.
"Our young people are increasingly staying at home in order to work locally, or move away to study/find work with which they can afford to live independently.
"My own daughter is remaining at home and working two jobs, and a flexible approach to contributing towards rent/living costs is still a necessity."
Alan Brattey, a local businessman with his own self-catering firm, said: "It is really worrying the issue of where workers for businesses are meant to stay. Some firms are shutting up shop early during the day, despite good tourism numbers, because staff are having to commute.
"We have so much potential, but are struggling because of a lack of affordable housing."
Alasdair Christie, chairman of CAB, said: "The tourism and accommodation industry will need to look to the future, because this is a silly situation."
"Badenoch and Strathspey have an issue with affordable housing like other areas in the Highlands."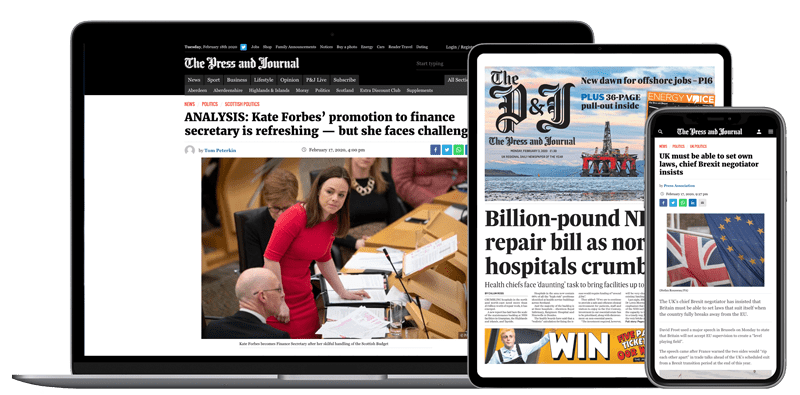 Help support quality local journalism … become a digital subscriber to The Press and Journal
For as little as £5.99 a month you can access all of our content, including Premium articles.
Subscribe